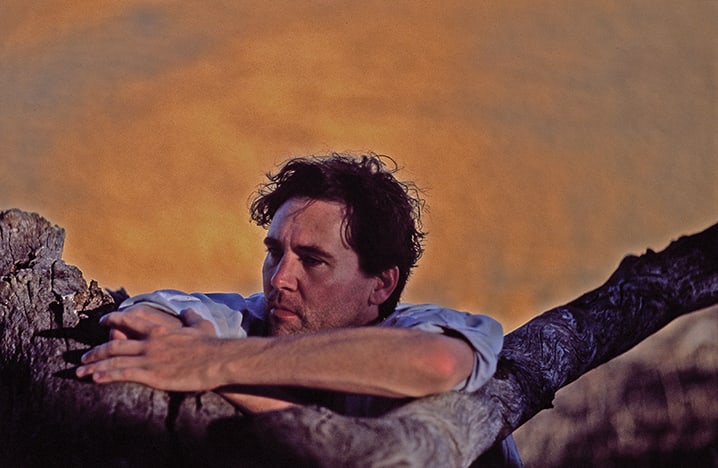 Tuesday, May 24th, 2016
Cass McCombs Announces New Album 'Mangy Love'
Over the past decade, Cass McCombs has established himself as one of our premier songwriters – diverse, cryptic, vital and refreshingly rebellious.
It's a career that's twisted and turned, from style to subject, both between records and within them. Today, ANTI is excited to announce the release of McCombs' eighth studio full-length album, Mangy Love, out August 26th (and available for pre-order now), debut single, "Opposite House," and an extensive North American tour.
Mangy Love is McCombs at his most blunt: tackling sociopolitical issues through his uniquely cracked lens of lyrical wit and singular insight. Throughout, he uses himself as a mirror to misguided and confounding realities, confronting them head on. The severity of his lyrics is contrasted by the music, which ventures into groovy realms of Philly soul, Norcal psychedelia and New York paranoia, articulating the spontaneity and joy of his live show better than ever before. Hip-hop and Beat poetry influences have never been more evident, with several songs employing a speech-style and clever fast-paced wordplay. There are guest appearances by many fellow musicians of his tribe ranging from Angel Olsen (on "Opposite House") to Blake Mills, under the production of veteran Rob Schnapf and Dan Horne. Mostly written during a bitter New York City winter and while traveling in Ireland, Mangy Love is McCombs reaching new sonic heights, creatively evolving lyrically, and resulting in his most provocative, yet immediate record yet.
Cass McCombs, accompanied by a full band, will tour North America this fall (all dates are below). Mangy Love is available for pre-order now. All iTunes pre-orders come with an instant grat download of debut single, "Opposite House."
Listen to Cass McCombs' "Opposite House" – https://soundcloud.com/antirecords/cass-mccombs-opposite-house/s-vpAEB
Listen to A Cass McCombs Artist-Curated Primer – http://thetalkhouse.com/talks/cass-mccombs-playlist/
Cass McCombs Tour Dates:
Wed. June 1 - Athens, GR @ Release Festival
Thu. June 2 - Barcelona, ES @ Primavera Sound
Fri. June 3 – Barcelona, ES @ Primavera Sound MACBA
Tue. June 7 - Basel, CH @ Kaserine
Wed. June 8 - Geneva, CH @ La Graviere
Fri. June 10 - Porto, PT @ NOS Primavera Sound
Sun. June 12 - London, UK @ Field Day
Mon. June 13 - London, UK @ The Lexington
Wed. Sep. 14 - San Francisco, CA @ Great American Music Hall
Thu. Sep. 15 - Los Angeles, CA @ Teragram Ballroom
Fri. Sep. 16 - San Diego, CA @ The Casbah
Sat. Sep. 17 - Phoenix, AZ @ Valley Bar
Mon. Sep. 19 - Austin, TX @ The Parish
Tue. Sep. 20 - Houston, TX @ White Oak Music Hall Upstairs
Wed. Sep. 21 - Dallas, TX @ Three Links
Fri. Sep. 23 - Denver, CO @ Larimer Lounge
Sat. Sep. 24 - Salt Lake City, UT @ Urban Lounge
Mon. Sep. 26 - Seattle, WA @ Tractor Tavern
Tue. Sep. 27 - Portland, OR @ Mississippi Studios
Fri. Oct. 14 - Philadelphia, PA @ Underground Arts
Sat. Oct. 15 - Baltimore, MD @ Ottobar
Sun. Oct. 16 - Asheville, NC @ The Grey Eagle
Tue. Oct. 18 - Atlanta, GA @ The Earl
Wed. Oct. 19 - Nashville, TN @ The High Watt
Fri. Oct. 21 - Chicago, IL @ Empty Bottle
Sat. Oct. 22 - St. Paul, MN @ Turf Club
Sun. Oct. 23 - Madison, WI @ The Frequency
Mon. Oct. 24 - Indianapolis, IN @The Hi-Fi
Wed. Oct. 26 - Toronto, ON @ Horseshoe Tavern
Thu. Oct. 27 - Montreal, QC @ Petit Campus
Fri. Oct. 28 - Brooklyn, NY @ Music Hall of Williamsburg
Sat. Oct. 29 - Boston, MA @ Cafe 939 at Berklee
Mangy Love Pre-order -- https://lnk.to/CassMcCombs