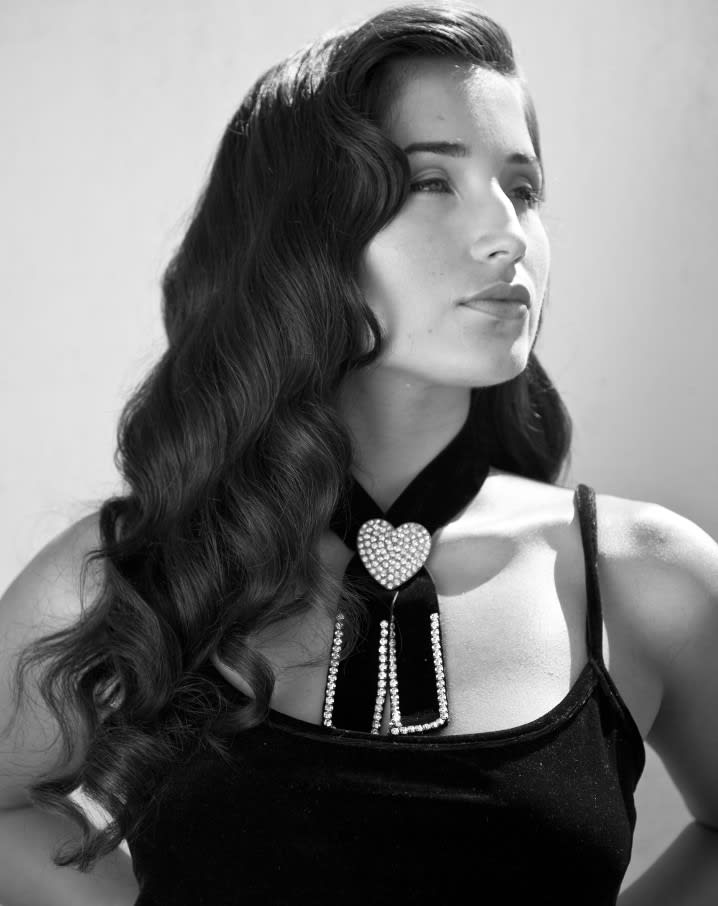 Thursday, March 2nd, 2017
Jade Jackson To Release Debut Album 'Gilded'
The Bluegrass Situation called Jackson's moody and romantic sound "part Hank Williams, part the Smiths" and a "unique combination of deadpan and delicate" while Rolling Stone featured Jackson in their "10 New Country Artists You Need to Know" list, describing her as "a raspy-throated, confident-beyond-her-years songwriter channeling Hank Williams via a somber goth-folk aesthetic."
In anticipation, Jackson has just released a track entitled "Finish Line". Like so many truly affecting songs, it is a painful personal experience transformed into a musical work of affirmation and defiance.
Jackson explains,"Finish Line" is incredibly personal to me and I'm excited to share it with you. Don't let other people tell you who you are because that's only ever up to you; when people put you down make art."
Listen on Spotify: https://open.spotify.com/track/3PY2ZPSadkI2lTIspCGe4s
Listen on Soundcloud: https://soundcloud.com/antirecords/jade-jackson-finish-line
Jade Jackson hails from the tiny town of Santa Margarita in central California where she began playing guitar and writing songs at 13. By the time she had entered high school she had attracted a growing fan base with local performances and estimates that she had written over 300 songs before graduating.
The notion that music could be more than merely a personal escape dates back to the night she went to a concert for the first time without her parents; and the headliner was Southern Californian legends Social Distortion.
"When I watched Mike Ness walk onstage and felt the energy from the crowd, it ignited something in me," Jackson explains. "I wanted to be on that stage too. I never knew I wanted to perform until that day. That shifted all the gears in my life."
After that Jackson formed a tight knit band and together they have shared stages with such iconic artists as Merle Haggard, Rosie Flores and Dwight Yoakam. Along the way, Jade attracted the admiration of none other than Social Distortion frontman Mike Ness, whose wife was friends with Jackson's mother. Upon hearing her perform, Ness offered to mentor Jackson and to produce her debut album.
The resulting album, Gilded, is unapologetically country rock, merging the heartbreak and resilience of Lucinda Williams with the melodic confidence of Emmylou Harris, yet containing the emotional presence of a young musician who cherished albums by The Gun Club and Smiths alongside the works of George Jones and Hank Williams.
Mike Ness says of their collaboration, "I wouldn't have done this record if I didn't believe in her and her potential. The songs were amazing and came to life each week we worked on them. She is an old soul and it comes through in her songwriting and performing. She truly is one of a kind, raw and unique. She put her trust in me and I trusted she'd deliver and she did."
Jade Jackson Gilded Track Listing:
1. Aden
2. Back When
3. Bridges
4. Finish Line
5. Troubled End
6. Good Time Gone
7. Salt to Sugar
8. No Guarantees
9. Motorcycle
10. Gilded
11. Better Off
Catch Jade Jackson and her band opening for Social Distortion.
Live Dates:
3/3/17 Las Vegas, NV, House Of Blues
3/4/17 Las Vegas, NV, House Of Blues
3/5/17 Flagstaff, AZ, Orpheum Theater
3/7/17 Ventura, CA, The Majestic Ventura Theatre
3/8/17 San Diego, CA, The Observatory North Park
3/9/17 San Diego, CA, The Observatory North Park
3/11/17 Pomona, CA, Fox Theater Pomona
3/12/17 Santa Cruz, CA, The Catalyst
3/14/17 Sacramento, CA, Ace of Spades
3/16/17 San Francisco, CA, The Fillmore
3/17/17 San Francisco, CA, The Fillmore
3/18/17 Berkeley, CA, The UC Theatre
3/20/17 Eugene, OR, McDonald Theatre
3/21/17 Seattle, WA , The Showbox
3/22/17 Seattle, WA, The Showbox
3/24/17 Portland, OR, Roseland Theater
3/25/17 Spokane, WA, Knitting Factory
3/26/17 Boise, ID, Knitting Factory
3/29/17 Boulder, CO, Boulder Theater
3/30/17 Denver, CO, Ogden Theatre
3/31/17 Denver, CO, Ogden Theatre
4/3/17 Tempe, AZ, Marquee Theatre
4/4/17 Tempe, AZ, Marquee Theatre
4/5/17 Tucson, AZ, The Rialto Theatre
4/7/17 Pomona, CA, Fox Theater Pomona