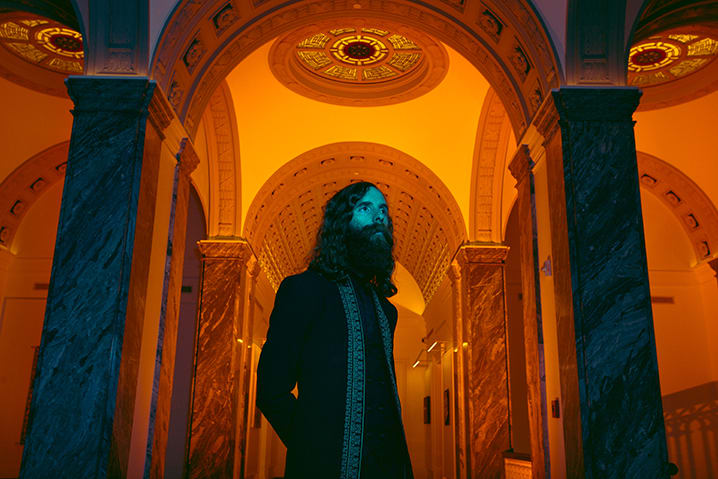 Tuesday, June 19th, 2018
Saintseneca Announce New Album 'Pillar Of Na'
Today, Saintseneca has announced a new album titled Pillar of Na, with its glistening lead single, "Frostbiter."
NPR, who premiered the song on the All Songs Considered blog, is saying "For Saintseneca, fatalistic gloom blends seamlessly with a kind of playful sprightliness: Zac Little's songs often simmer in a sad swirl of death and esoterica, but his deadpan ruminations are buoyed by the sounds of exotic instruments, candy-colored pop hooks and many points in between."
Saintseneca's Zac Little says "I think of this song as a big tree trunk in the woods where people carve their messages - initials, jokes, 'I love you' hearts... It is a work of accumulation. A little space absorbing traces of its environment over time. Every mark corresponds to a different story. Some of them are mine. Some belong to others, yet feel all too familiar."
Pillar of Na is available for pre-order now and due out 8/31 via ANTI- Records.
Additionally, Saintseneca have also announced their first headline tour in 3 years in support of Pillar of Na. All dates below.
Listen to "Frostbiter" here.
[youtube id=AEZB3zGHdog]
TOUR DATES:
8/25 - Cincinnati, OH @ beWILDerfest
8/31 - Columbus, OH @ Wexner Center for the Arts
9/4 - Pittsburgh, PA @ Spirit Lodge
9/5 - Boston, MA @ Brighton Music Hall
9/6 - New York, NY @ Bowery Ballroom
9/7 - Philadelphia, PA @ PhilaMOCA
9/8 - Richmond, VA @ The Camel
9/9 - Washington, DC @ Black Cat (Backstage)
9/11 - Durham, NC @ The Pinhook
9/12 - Atlanta, GA @ Drunken Unicorn
9/13 - Tampa, FL @ Crowbar
9/14 - Tallahassee, FL @ The Wilbury
9/15 - New Orleans, LA @ Gasa Gasa
9/17 - Austin, TX @ Barracuda
9/18 - Ft. Worth, TX @ Main at South Side
9/19 - Oklahoma City, OK @ Opolis
9/20 - Lawrence, KS @ Bottleneck
9/21 - St. Louis @ Off-Broadway
9/22 - Davenport, IA @ Village Theatre
9/23 - Indianapolis, IN @ Hollar on the Hill Festival
9/24 - Lexington, KY @ The Burl
10/9 - Cleveland, OH @ Mahall's
10/10 - Toronto, ONT @ Drake
10/11 - Ferndale, MI @ Loving Touch
10/12 - Chicago, IL @ Lincoln Hall
10/14 - Madison, WI @ High Noon
10/15 - Minneapolis, MN @ 7th Street Entry
10/18 - Boise, ID @ Funky Taco
10/19 - Seattle, WA @ Sunset Tavern
10/20 - Portland, OR @ Doug Fir Lounge
10/22 - San Francisco, CA @ Rickshaw Stop
10/23 - Los Angeles, CA @ The Echo
10/24 - San Diego, CA @ The Casbah
10/25 - Phoenix, AZ @ Valley Bar
10/27 - Denver, CO @ Larimer Lounge