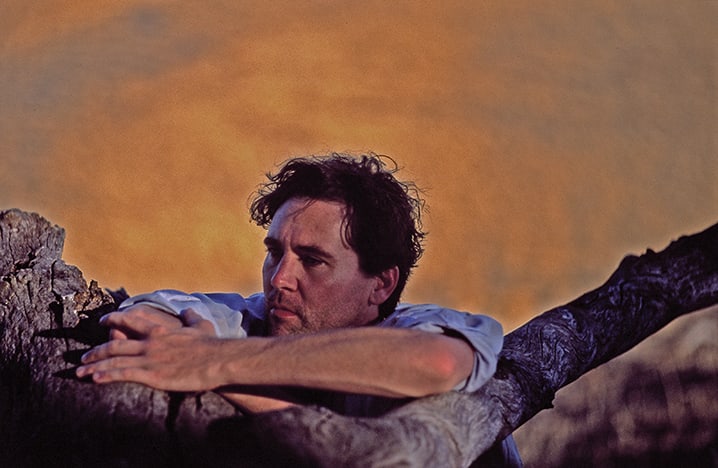 Wednesday, August 10th, 2016
Watch Cass McComb's New Video For "Medusa's Outhouse"
Cass McCombs and Focus Creeps continue their history of creative collaborations with the new video for "Medusa's Outhouse," one of Mangy Love's standout songs, where the narrator doesn't claim to have a solution, but merely wants to forget.
As described by Focus Creeps' Aaron Brown, "the video for 'Medusa's Outhouse' has to do with wondering what are the fantasies of the people who act out our fantasies for us? Where does fantasy end?" Head over to Dazed Digital for an in depth dialogue about "Medusa's Outhouse" between Brown and McCombs.
Mangy Love is McCombs' eighth full-length album and debut for ANTI. It's his most blunt, tackling sociopolitical issues through his uniquely cracked lens of wit and singular insight. With a common thread of opposition sewing the album together, the severity of his lyrics is contrasted by the music, which ventures into groovy realms of Philly soul, Norcal psychedelia and New York paranoia.
Mangy Love is available for pre-order now. All iTunes pre-orders come with an instant grat download of singles "Opposite House," "Run Sister Run," and "Medusa's Outhouse." Catch Cass and band all over the country this fall (all dates are below).
Watch Cass McCombs' "Medusa's Outhouse" Video – http://www.dazeddigital.com/music/article/32397/1/enter-california-s-porn-industry-in-cass-mccombs-s-new-video
"Medusa's Outhouse" Stream – https://soundcloud.com/antirecords/cass-mccombs-medusas-outhouse/
"Run Sister Run" Stream – https://soundcloud.com/antirecords/cass-mccombs-run-sister-run/
"Opposite House" Stream: https://soundcloud.com/antirecords/cass-mccombs-opposite-house/
A Cass McCombs Artist-Curated Primer – http://thetalkhouse.com/talks/cass-mccombs-playlist/
Cass McCombs Tour Dates:
Wed. Sep. 14 - San Francisco, CA @ Great American Music Hall
Thu. Sep. 15 - Los Angeles, CA @ Teragram Ballroom
Fri. Sep. 16 - San Diego, CA @ The Casbah
Sat. Sep. 17 - Phoenix, AZ @ Valley Bar
Mon. Sep. 19 - Austin, TX @ The Parish
Tue. Sep. 20 - Houston, TX @ White Oak Music Hall Upstairs
Wed. Sep. 21 - Dallas, TX @ Three Links
Fri. Sep. 23 - Denver, CO @ Larimer Lounge
Sat. Sep. 24 - Salt Lake City, UT @ Urban Lounge
Mon. Sep. 26 - Seattle, WA @ Tractor Tavern
Tue. Sep. 27 - Portland, OR @ Mississippi Studios
Fri. Oct. 14 - Philadelphia, PA @ Underground Arts
Sat. Oct. 15 - Baltimore, MD @ Ottobar
Sun. Oct. 16 - Asheville, NC @ The Mothlight
Tue. Oct. 18 - Atlanta, GA @ The Earl
Wed. Oct. 19 - Nashville, TN @ The High Watt
Fri. Oct. 21 - Chicago, IL @ Empty Bottle
Sat. Oct. 22 - St. Paul, MN @ Turf Club
Sun. Oct. 23 - Madison, WI @ The Frequency
Mon. Oct. 24 - Indianapolis, IN @The Hi-Fi
Wed. Oct. 26 - Toronto, ON @ Horseshoe Tavern
Thu. Oct. 27 - Montreal, QC @ Petit Campus
Fri. Oct. 28 - Brooklyn, NY @ Music Hall of Williamsburg
Sat. Oct. 29 - Boston, MA @ Cafe 939 at Berklee
Tue. Nov. 1 – Paris, FR @ Point Ephemere
Wed. Nov. 2 – Luxembourg City, Luxembourg @ Rotonde
Wed. Nov. 3 – Lisbon, PT @ Cinema S. Jorge
Thu. Nov. 4 – Berlin, DE @ Kantine am Berghain
Fri. Nov. 5 – The Hague, NL @ Crossing Border Festival
Sun. Nov. 7 – London, UK @ Scala