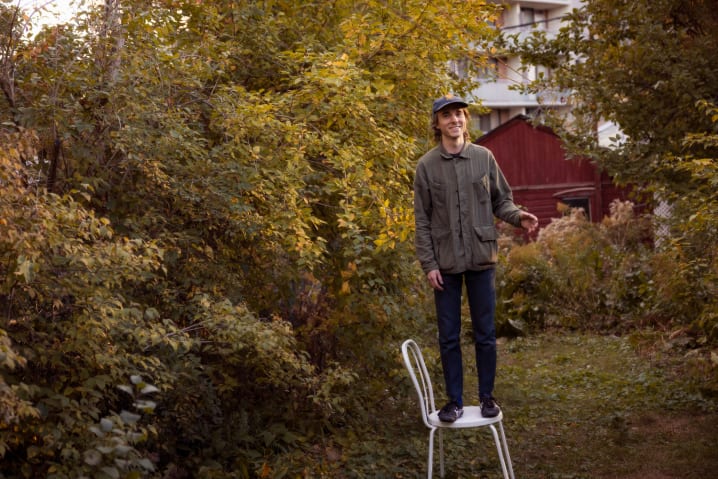 Wednesday, January 18th, 2023
Andy Shauf Presents New Single/Video, "Telephone"
Andy Shauf returns with "Telephone," his new single/video off his forthcoming album, Norm, out February 10th on ANTI-. With Norm, Shauf upended his songwriting methods, creating a deeply haunting and unpredictable universe. "Telephone" follows the "jaunty" and "existential" (Stereogum) lead single "Wasted On You" and "Catch Your Eye," in which "a dreamlike serenity is undercut with unsettling desperation" (New York Times). Shauf hates talking on the phone, so, imagining someone different, he wrote "Telephone." The yearning intensity of the song went unusual places, and Shauf deemed it worth keeping. "I wish you'd call me on the telephone," he begins in a half-whisper, "I want to hear your voice // reaching late into the night."
The accompanying video, animated by Chad VanGaalen, features a returning character from Shauf's "Catch Your Eye" video, and offers a fantastical continuation of its predecessor's plot. "I love Chad's animation style so much," Shauf says of the video. "He takes normal things and makes them odd, but also makes odd things seem totally normal. We asked him to take us into the weird world of Norm and a few months later we received an email with a link to this video and it was everything that we hoped for and much more." There's a story unfolding on Norm, leaping from song to song and video to video, illuminating the comedy and cruelty of humanity. Most of the action takes place in the gaps between tracks, but Shauf deliberately left open spaces through which audiences could enter to find the story and create meaning for themselves.
Watch Andy Shauf's "Telephone" Video
Norm's story takes shape through little epiphanies, accumulating like debris from a series of implosions. Its cast of characters includes four voices in all. Three are narrators, inside whose perspective Shauf submerges us for one or more songs. Alongside story editor Nicholas Olson, Shauf refined Norm's narrative until he felt the bones of the story as he imagined it lay close enough to the surface to be dug up by anyone who wanted to go looking. With Shauf singing everything, it's not always obvious at first whose point of view is represented in each song. But the lyric sheet provides discreet clues to know whose voice we're hearing at any given moment. Only through repeated listening does the story fully reveal itself.
Shauf wrote, performed and recorded the entire album and enlisted Neal Pogue (Outkast, Tyler, The Creator) to mix. Pogue took Norm's sonic framework in a new direction, one with a greater sense of clarity and lots of space. Listen closely, and deep in the music, a shift happens as the world goes sideways. The tempo slows, vertigo slips in, or a discordant note appears. An uneasy clarinet phrase devolves into a busy signal. A lyric veers from a bird's-eye-view to intimate thoughts. The result is a recognizable Shauf production, but with a flowing landscape of suppressed grooves propelling the songs toward uncertain destinations. He's driving us out to a wild and dangerous place.
Next month, Shauf will embark on the Andy Shauf Presents Norm Tour, preceded by two solo shows this weekend. The Norm tour will see Shauf visiting Los Angeles, Chicago, New York, and more. A full list of dates is below and tickets are on sale now.