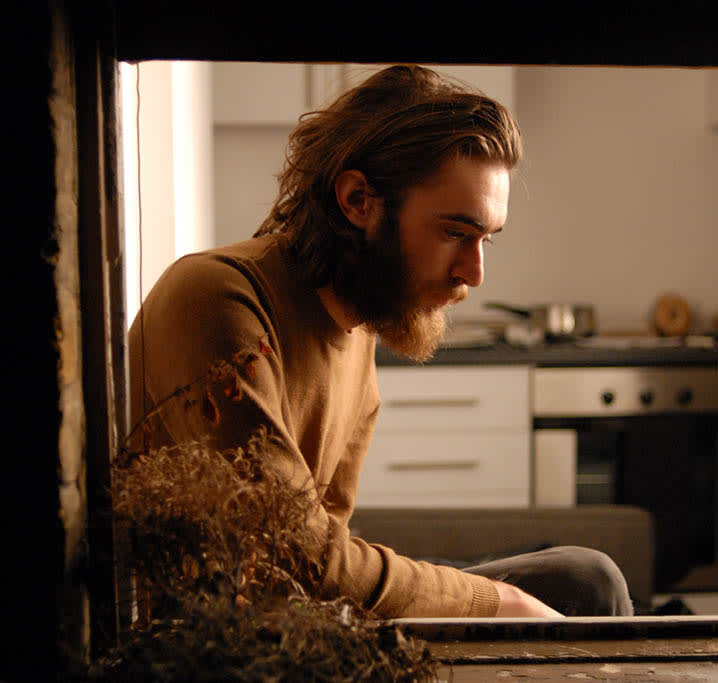 Tuesday, February 12th, 2013
Anti- Signs KEATON HENSON
"Both beautiful and unbearable... one of the most compelling singer-songwriters we've heard in ages." - The Sunday Times
The first thing you notice is the staggering honesty. How his haunting songs so perfectly convey the intertwining yearning and despair of romantic entanglement. There is an immense beauty, but there is also an undercurrent of despair and darkness. It is a combination that feels entirely authentic – and it is riveting.
Anti- is thrilled to announce the signing of an astonishing new talent named Keaton Henson. At just twenty-four years old, Henson has already attracted attention as a visual artist. Then last year his self-recorded and released debut album Dear… generated a well-deserved buzz in his native England. Though created almost entirely on guitar, the sound is an unexpectedly complex and evocative. The lyrics are so deeply personal it can feel voyeuristic, recalling the confessions of a close friend or lover. If one were to reach for a point of reference, it would be figures such as Nick Drake and Tim Buckley or even Dylan Thomas and Oscar Wilde.
Henson's debut was recorded in his bedroom apartment underneath the flight path of London's Heathrow Airport. If you listen close you can make out the occasional plane moving overhead, but more, you hear the wrenching sound of a human heart breaking. Without any formal promotion, Dear… received critical acclaim and attracted a fervent fan base. The Guardian called the record "stunning," saying that "it feels like trespassing on a very small space, filled with enormous private sorrows." BBC radio played the track "You Don't Know How Lucky You Are" and its cathartic sound resonated with an audience hungering for authenticity.
Keaton Henson's anticipated follow up record, Birthdays, will be released in North America on April 9 on Anti-. It seems a perfect fit for this wholly unique new artist.
The new album uses Dear… as its starting point, with many tracks carrying on the stark sound Henson developed on his debut. But there are also some more ambitious band arrangements that close out the album, along with a sly humor that creeps into the lyrics. In "Kronos," a full band workout that recalls the best of Modest Mouse and the Pixies, Henson pours vitriol on a spurning lover, only to turn the tables in a mid-song breakdown. Taking the spurning lover's voice, Henson lambasts himself: "You son of a bitch/stop writing songs like this." The subtle humor and broader musical palette make Birthdays a perfect development of Keaton Henson's rich aesthetic, and a stunning introduction to this artist.
The video for the upcoming album's track "Sweetheart, What Have You Done To Us" features a visibly moved Henson staring towards, and likely past, a camera while "performing" the deeply affecting song. In a mere two months the clip has already accumulated 260,000 views. Watch the video for Keaton Henson's "Sweetheart, What Have You Done To Us" by going to: http://www.youtube.com/watch?v=MCNtWKdi5Ds
Acclaim for Keaton Henson:
"Beautiful and heartbreaking" - The Times
"Beautiful and uncompromising" - Q
"Beautifully fragile" - Evening Standard
"Henson's private agony is proving addictive." - The Guardian
"Startling...it feels like trespassing" - Observer
"Accomplished artist, poised songwriter, heartbroken recluse...spine-tinglingly poignant" - Time Out
"A tear-stained love letter" – Fader