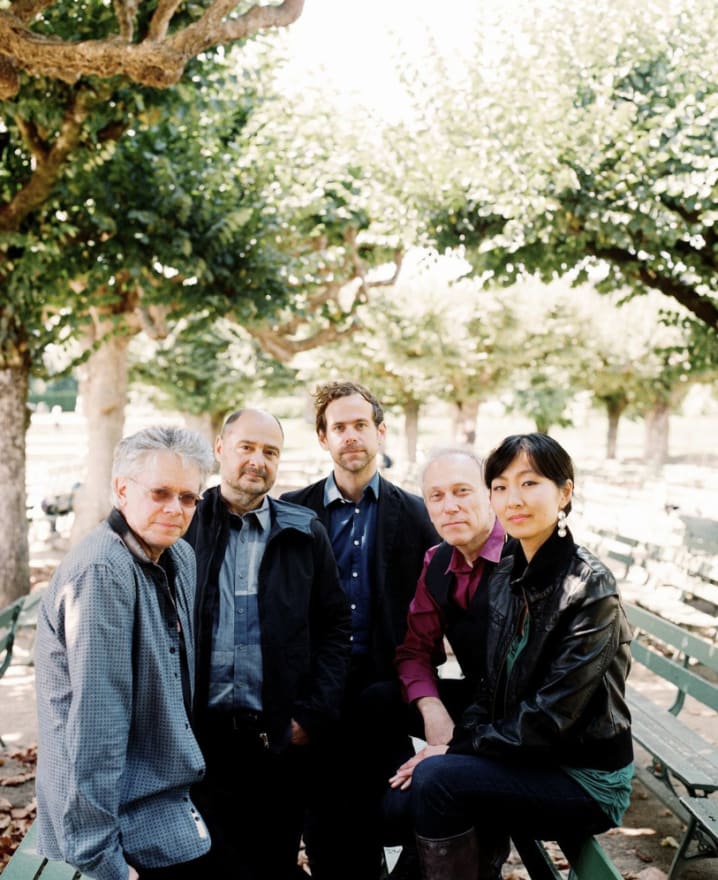 Wednesday, August 21st, 2013
BRYCE DESSNER MAKES RECORDED DEBUT AS COMPOSER WITH KRONOS QUARTET COLLABORATION AHEYM
Bryce Dessner, the critically acclaimed guitarist from The National and Clogs who has collaborated with Steve Reich, Philip Glass, David Lang, Sufjan Stevens and many others, is set to make his recorded debut as composer with Aheym, out November 5 on Anti- Records. The album finds Dessner collaborating with Grammy Award-winning Kronos Quartet, who are currently celebrating their 40th anniversary season.
Aheym features four original compositions by Dessner performed by Kronos as well as an appearance by the Brooklyn Youth Chorus. Dessner and the quartet first crossed paths when Kronos founder David Harrington approached Dessner about writing a piece for the quartet's performance at the Celebrate Brooklyn! festival at Brooklyn's Prospect Park in 2009. The ensuing piece, "Aheym" (meaning "homeward" in Yiddish), was informed by the stories of Dessner's Jewish immigrant grandparents who settled near the park and, as the pair's collaboration grew, became the album's title track. Aheym also includes a performance dedicated to Laurence Neff, Kronos Quartet's lighting designer of 25 years ("Tenebre"); a composition influenced by obscure Czech viola da gamba performers Irena and Vojtěch Havel ("Little Blue Something"); and "Tour Eiffel," a setting of a poem by Chilean poet Vicente Huidobro that was originally commissioned by the Brooklyn Youth Chorus (which perform the track on Aheym alongside Kronos Quartet) at the suggestion of Dessner's close friend, composer Nico Muhly.
Best known for his work with Brooklyn-based rock group The National, Bryce Dessner is also a founding member of the group Clogs and founder/curator of Cincinnati's acclaimed MusicNOW Festival. Graduating from Yale University with a master's degree in music, Dessner serves as a composer-in-residence at Muziekgebouw Frits Philips in Eindhoven, Netherlands, produced the Red Hot AIDS charity compilation Dark Was the Night with his brother and The National bandmate Aaron, curated the Crossing Brooklyn Ferry music festival for the Brooklyn Academy of Music (also with Aaron) and has performed alongside Steve Reich, Nico Muhly, Sufjan Stevens, Radiohead's Johnny Greenwood and many others.
The San Francisco-based Kronos Quartet has made a name for themselves across multiple genres, performing alongside artists including Tom Waits, Asha Bhosle, Paul McCartney, Allen Ginsberg, David Bowie and Wu Man. They have also collaborated with a long list of composers including Philip Glass, Laurie Anderson, John Adams, Steve Reich, Meredith Monk and Terry Riley. The group is currently celebrating its 40th anniversary with coast-to-coast birthday concerts, a host of premieres, a Nonesuch CD boxed set and performances around the globe. The non-profit Kronos Performing Arts Association manages all aspects of Kronos' work, including the commissioning of new works, concert tours and home-season performances and education programs.
BRYCE DESSNER/KRONOS QUARTET, AHEYM
1. Aheym
2. Little Blue Something
3. Tenebre
4. Tour Eiffel