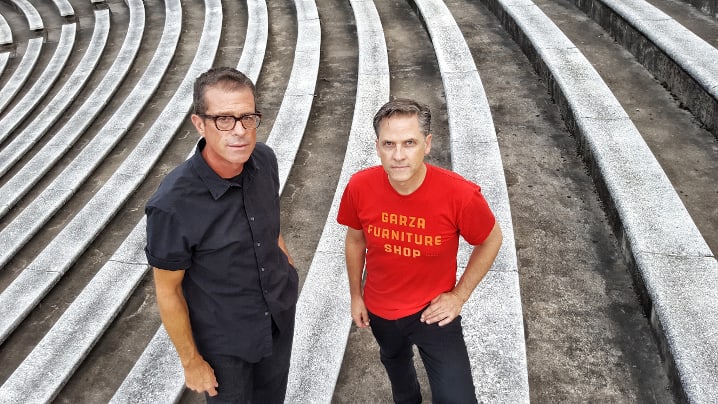 Monday, January 29th, 2018
Calexico 'The Thread That Keeps Us' Out Now, North American Tour Expanded
Last week, Calexico released their ninth studio album, The Thread That Keeps Us via Anti-.
Largely inspired by lead singer Joey Burns' wanderings around Northern California during the album's production, the narratives embedded in The Thread That Keeps Us reflect on displacement, transitory existence, and - in his own words, "returning to your home after being gone for some time and seeing how things have changed, and maybe not in the best way." Working with their longtime engineer Craig Schumacher, Calexico co-produced The Thread That Keeps Us, gathering musicians from across the globe to dream up an earthy yet expansive sound spiked with jagged guitar tones and flashes of distortion. Listen to Calexico's Joey Burns discuss the new record via NPR Weekend Edition HERE.
In addition to Calexico's previously announced North American tour kicking off in April, the band today announce another run of dates with Julia Jacklin this Summer. See below for a full rundown.
Calexico US Tour Dates
4/19 - El Paso, TX - Tricky Falls*
4/20 - Dale, TX - Old Settler's Music Festival
4/21 - Tulsa, OK - The Vanguard*
4/22 - St. Louis, MO - Blueberry Hill Duck Room*
4/23 - Minneapolis, MN - Fine Line Music Cafe*
4/25 - Chicago, IL - Thalia Hall*
4/26 - Cincinnati, OH - The Woodward Theater*
4/27 - Washington, DC - Lincoln Theatre*
4/28 - Brooklyn, NY - Music Hall of Williamsburg*
4/29 - New York, NY - Bowery Ballroom*
5/1 - Cambridge, MA - The Sinclair*
5/2 - Philadelphia, PA - World Cafe Live*
5/3 - Charlottesville, VA - Jefferson Theater*
5/6 - New Orleans, LA - New Orleans Jazz and Heritage Festival
5/7 - Atlanta, GA - Terminal West*
5/8 - Nashville, TN - Mercy Lounge*
5/26 - Avila Beach, CA - Avila Beach Resort
5/31 - Tucson, AZ - Rialto Theatre #
6/1 - Phoenix, AZ - The Van Buren #
6/2 - Los Angeles, CA - El Rey Theatre #
6/3 - Solana Beach, CA - Belly Up Tavern #
6/5 - San Francisco, CA - Great American Music Hall #
6/6 - San Francisco, CA - Great American Music Hall #
6/7 - Portland, OR - Revolution Hall #
6/8 - Vancouver, BC - Rickshaw Theatre #
6/9 - Seattle, WA - Neptune Theatre #
6/11 - Salt Lake City, UT - The State Room #
6/12 - Boulder, CO - Boulder Theater #
6/13 - Santa Fe, NM - The Bridge at Santa Fe Brewing #
* w/ Ryley Walker
# w/ Julia Jacklin
"Geography may serve as a touchstone for much of Calexico's music, but The Thread That Keeps Us carves out a landscape all its own." NPR
"Calexico have made records that sound like this one before, but they've never made one with quite this much fight in it." Pitchfork
"Remarkably consistent and prolific." Salon
"Rousing single: "End Of The World With You" is true modern indie-Americana." Stereogum
"After nine albums, it takes effort to make a record that sounds as vibrant as this, without losing the very basis of your original appeal. Calexico have managed it."The Guardian
"They encapsulate the anxiety and unease that comes with the world in which they live, through the forum of profound lyricism and distorted guitars." Paste Magazine
"The sonic threads keeping Calexico together are here. They're just a little looser now, with songs feeling a bit more immediate this time." Relix
"It pulsates with energy and light, like a real life breathing being. The arrangements are lush and layered and the band sounds excited to explore the wide range of sonic elements of these songs. The Thread That Keeps Us is unlike anything we've ever heard from the seven-piece band. It is a product of this moment and practically forces us to be present when we listen to it." No Depression
"By turns gentle and bold, traditional and boundary-pushing, The Thread That Keeps Us is another fine example of Calexico's ever-broadening horizons." All Music
"...pound for pound, this is their strongest set of songs in years." **** Q
"If the band has upped the musical chaos, there still is an unashamedly romantic feel, as if they believe humanity's innate goodness will get us out of this mess." **** Mojo