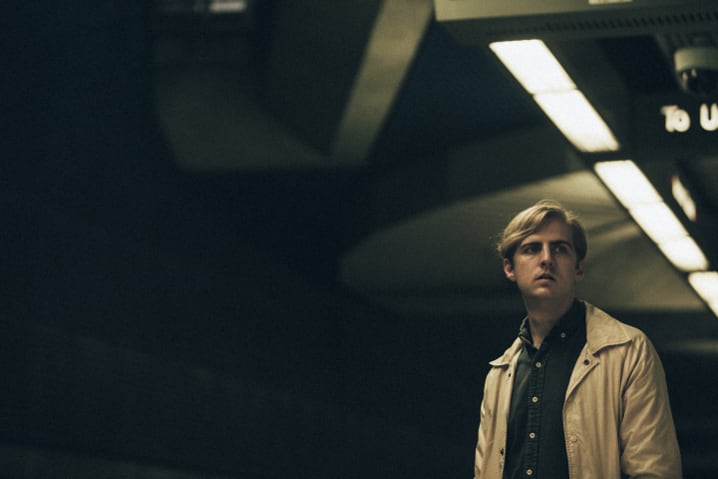 Thursday, February 6th, 2020
Christian Lee Hutson Signs To Anti, Announces New Album 'Beginners'
Newly signed to ANTI- Records, Christian Lee Hutson today announced his new album Beginners—produced by Phoebe Bridgers—will be released on May 29th, 2020.
He also shared the Zoe Donahoe and Adam Sputh-directed video for the stirring first single "Lose This Number," which features backing vocals by Bridgers and a string arrangement by Nathaniel Walcott (Bright Eyes). "I think 'Lose This Number' is about someone fixating on the past, wishing they could go back and change things," explains Hutson. "My friends Zoe and Adam made fake rain, granny's basement, dragged a mattress onto a rooftop, and vacuumed up thousands of feathers in order to bring their beautiful video for this song to life." Donahue and Sputh add, "We believe in the imagery that Christian's music already presents, and wanted to create something that allows you to bask deeper in its lyrical and sonic intimacy, instead of distracting you. We opted for something overwhelmingly honest that takes you with Christian through a few dreamy scenarios in life, which often tend to unfold through immeasurably small moments." Watch the video now HERE.
On "Lose This Number," Hutson reveals one of his greatest strengths as a songwriter: a rare ability to infuse his lyrics with myriad idiosyncratic detail, yet leave the narrative slippery enough for the listener to fill in their own meaning. Throughout the song, his storytelling is threaded with incisive turns of phrase (e.g., "It's like I was born on the back of a bullet/With your name written on it"). News of Beginners and "Lose This Number" follows the Los Angeles-based Hutson's previous single "Northsiders," released last year as an early preview of the album to praise from outlets including The New York Times, Rolling Stone ('Song You Need To Know'), Stereogum, Uproxx, Paste, and Brooklyn Vegan, among many others. Beginners is now available for pre-order.
On Beginners, Hutson embeds every lyric with his most intimate self-dialogue, sharing painful confessions and private jokes, imagined conversations and elaborate daydreams. The album spotlights a nuanced songcraft and understated candor that all but erases the distance between feeling and expression. Throughout this collection of songs, Hutson ultimately speaks an illuminating truth about regret and forgiveness and the endless confusion in growing up.
"I went with Beginners as the title because that's where I feel like I am in my life—like I'm still just learning and trying to figure out how to navigate the world," Hutson notes.
Hutson—who also co-wrote a song on the 2018 boygenius EP and two on the 2019 Better Oblivion Community Center LP—and Bridgers recorded Beginners at L.A.'s legendary Sound City Studios, but purposely preserved the homespun quality of his cell-phone-recorded demos. The album mines its subtle textures from Hutson's warm vocals and graceful guitar work, and also unfolds flashes of sonic brilliance achieved with the help of its guest musicians—including Bridgers herself, as well as Walcott (who created all the string arrangements for the album, in addition to playing trumpet).
Following tours last year supporting Better Oblivion Community Center, Julia Jacklin, and Okkervil River, Hutson will head to Austin, TX, next month for the SXSW festival, with more dates to be announced soon