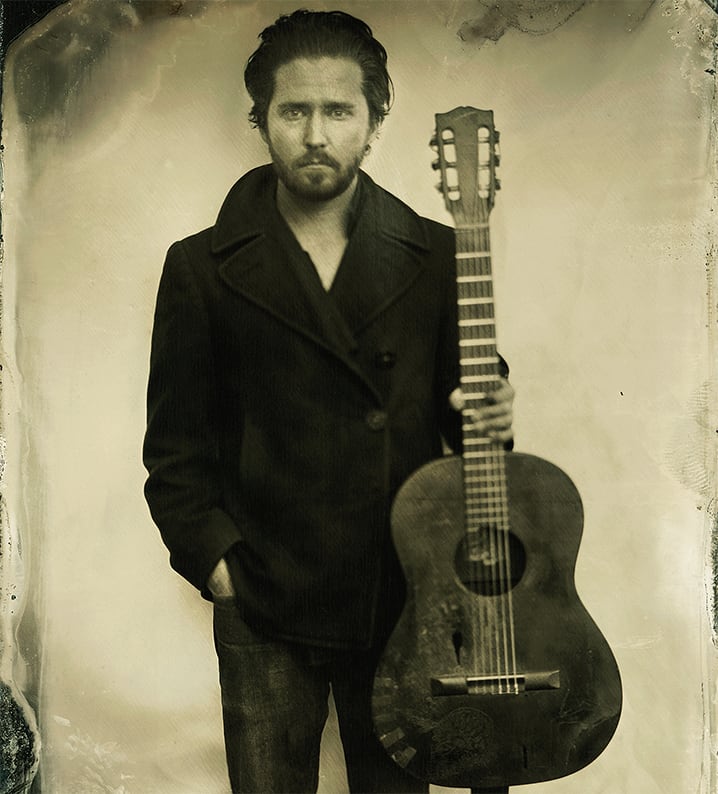 Monday, March 30th, 2015
Christopher Paul Stelling's Anti Debut Album Out June 16
The Daily Beast is premiering a new song by singer songwriter Christopher Paul Stelling. The track is called "Warm Enemy" from Stelling's Anti- debut album Labor Against Waste which arrives June 16th.
Listen to Christopher Paul Stelling's "Warm Enemy" via The Daily Beast: http://www.thedailybeast.com/articles/2015/03/30/back-alley-sxsw-find-gets-a-record-deal.htm
The song begins with a finger-picked guitar accented by dazzling flourishes, soon joined by Stelling's melodic and soulful voice. His guitar receives emphasis from an ensemble of stomps, claps, french horn, flugelhorn, kettle drums, string quartet, and a chorus comprised of members from the Low Anthem, in whose studio Stelling tracked the song.
Stelling explains the song's meaning from an overheated car on the side of highway 81 between Johnson City, and Charlottesville, "Sometimes we have to give up in order to keep trying. We're our own worst enemies, and our own best friends. We created this. We know by now where change begins, but at times it's always false starts. This is a song about the inevitable folly of self ridicule and self praise. This is a song about the importance of persistence. Or it's a song about nothing at all."
There is a fearless quality to the music of Christopher Paul Stelling. A voice that sounds both old and young, an effortless yet intricate finger-picking guitar style and lyrics that are both dramatic, and intensely confessional. It's a sound that channels the restless spirit of a young man who left home to travel the country, haunting and impassioned songs formed by endless nights alone on stage with a guitar, playing to packed houses, other times to nearly empty rooms. Stelling estimates that he's played over four hundred shows in just the past three years. It places him within a longstanding tradition that serves to nurture ones character and art.
Stelling grew up in Florida but says he left at an early age, searching for an identity, living for stints in Colorado, Boston, Seattle and North Carolina before settling in New York City. During those years, he worked in a used book store soaking up the great works, and for a time, played guitar for ten hours a day, eventually perfecting a melodic finger-picking style influenced in large part by blues legends such as Skip James and Mississippi John, masters like John Fahey, and banjo greats Dock Boggs and Roscoe Holcomb.
And while his guitar playing is unquestionably masterful, it never intrudes. The melodies remain perfectly integrated, his songs focused and urgent. It is folk music, and it is much more. There are hints of Waylon Jennings' country blues, a healthy dose of early seventies rock like Van Morrison and The Band, and poetry and art reminiscent of Dylan and Waits. But in the end it is completely honest and personal, in intent and form.
"What a real self contained, modern day troubadour looks and sounds like. A voice to be reckoned with in the years to come." - American Songwriter