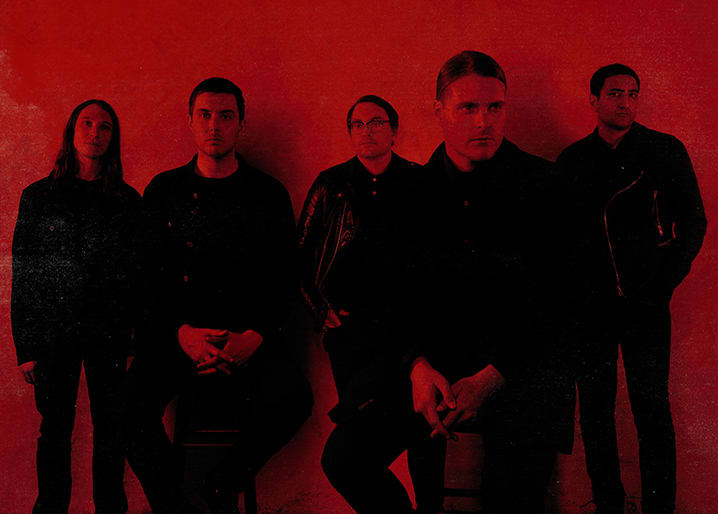 Friday, September 14th, 2018
Deafheaven Make Late Night Debut On Last Call With Carson Daly
Deafheaven made their late night television debut on Last Call with Carson Daly. "Honeycomb" live was filmed at Deafheaven's sold-out show at The Wiltern in Los Angeles, CA. Watch the episode featuring the performance "Honeycomb" now.
This summer Deafheaven released their fourth album Ordinary Corrupt Human Love with much critical acclaim. In their Best New Music review, Pitchfork stated, "Human Love is Deafheaven's subtlest, prettiest music, and it aims for a different kind of transcendence." Rolling Stone said it is "beautiful and grandiose" while Variety admired its "black-metal ferocity, majestic melodies and complex song structures." Ordinary Corrupt Human Love greatly expands on their heavy, kinetic sound along with placing more prominence on piano. Deafheaven gracefully weave in layered psychedelic vocals, jazz-inspired percussion, classic rock riffs, and shoegaze-esque textures.
As previously announced, Audiotree shared two intimate live performances of "Honeycomb" and "Worthless Animal", filmed at The Preston Bradley Center Auditorium in Chicago, IL.
Deafheaven begin their EU/UK headline tour tonight in Warsaw at Hybrydy with Inter Ama as support. In October Deafheaven will tour the US with DIIV in support of Ordinary Corrupt Human Love. Tickets are on sale now.
DEAFHEAVEN EU/UK TOUR DATES:

SEP 13 Warsaw, PL @ Hybrydy
SEP 14 Poznan, PL @ U Bazyla
SEP 15 Dresden, DE @ Beatpol
SEP 17 Gothenburg, SE @ Pustervik
SEP 18 Oslo, NO @ Rockefeller
SEP 19 Stockholm, SE @ Kraken
SEP 20 Copenhagen, DK @ Vega
SEP 22 Amsterdam, NL @ Paradiso
SEP 23 Esch Alzette, LU @ Rockhal
SEP 25 Antwerp, BE @ Trix
SEP 26 Koln, DE @ Essigfabrik
SEP 27 Berlin, DE @ Bi Nuu
SEP 28 Karlsruhe, DE @ Jubez
SEP 30 Bristol, UK @ The Fleece
OCT 01 Manchester, UK @ Gorilla
OCT 02 Glasgow, UK @ Art School
OCT 03 Leeds, UK @ Stylus
OCT 05 London, UK @ ULU
OCT 06 Nijmegen, NL @ Soulcrusher Festival
OCT 07 Paris, FR @ La Maroquinerie
OCT 09 Munich, DE @ Feierwerk
OCT 10 Winterthur, CH @ Salzhaus
OCT 11 Milan, IT @ Legend
OCT 12 Bologna, IT @ TPO
OCT 13 Zagreb, HR @ Mochvara
OCT 14 Vienna, AT @ Arena
-All EU/UK dates with Inter Arma as support
DEAFHEAVEN US TOUR DATES WITH DIIV

OCT 19 Pioneertown, CA @ Pappy + Harriet's
OCT 20 Tucson, AZ @ Club Congress
OCT 21 Albuquerque, NM @ Sister
OCT 22 El Paso, TX @ Low Brow Palace
OCT 23 San Antonio, TX @ Paper Tiger
OCT 25 Pensacola, FL @ Vinyl Music Hall
OCT 26 Athens, GA @ 40 Watt Club
OCT 27 Asheville, NC @ The Grey Eagle Tavern & Music Hall
OCT 28 Nashville, TN @ Mercy Lounge
OCT 30 Baltimore, MD @ Baltimore Sound Stage
OCT 31 Jersey City, NJ @ White Eagle Hall
Nov 01 Portsmouth, NH @ 3S Artspace
NOV 02 Providence, RI @ Fête Ballroom
NOV 03 Ithaca, NY @ The Haunt
NOV 04 Pittsburgh, PA @ Spirit
NOV 06 Cleveland Heights, OH @ Grog Shop
NOV 07 Cincinnati, OH @ The Ballroom at the Taft Theatre
Nov 09 Champaign, IL @ Canopy Club
NOV 10 Grand Rapids, MI @ The Pyramid Scheme
NOV 11 Madison, WI @ High Noon Saloon
NOV 13 Colorado Springs, CO @ The Black Sheep
NOV 15 Reno, NV @ Jub Jub's
NOV 16 Fresno, CA @ Strummer's
NOV 17 Santa Cruz, CA @ The Catalyst
Formed in San Francisco in 2010, Deafheaven made their debut with 2011's Roads To Judah and had an unexpected crossover hit with their 2013 sophomore effort Sunbather. Along with being praised as "one of the best albums of the year" by Stereogum, their third album New Bermuda was hailed as "a brilliant collision of beauty and despair" in Pitchfork's Best New Music review.