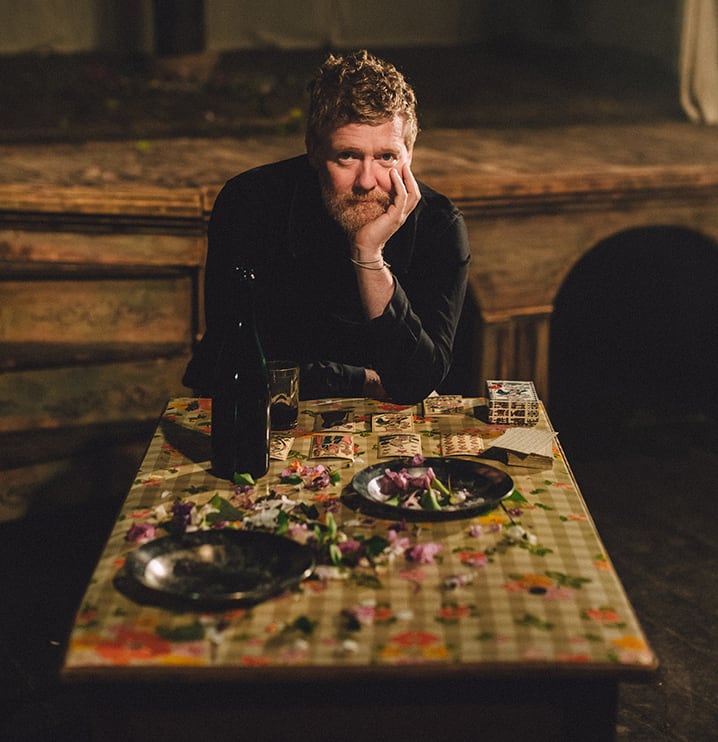 Friday, January 19th, 2018
Glen Hansard 'Between Two Shores' Available Now
Glen Hansard has released his third solo album Between Two Shores today via Anti-.
Produced by Hansard himself, the 10-track album is considered "one of his most potent and lively sets yet," by Rolling Stone who also noted, "On Between Two Shores, Hansard accomplishes that rare feat of mixing loose and tender vibes with poignant lyrical precision."
The album is available via all major streaming services and retailers including Amazon, Spotify, iTunes, Apple Music along with his website, GlenHansardMusic.com.
In celebration, Hansard performed the album's opening track, "Roll On Slow" on Late Night With Seth Meyers last night joined by the legendary Max Weinberg on drums.
Earlier this week, Hansard revealed the "gorgeous animated video" with NPR Music, who also noted it "nicely captures the new song's buoyant swells and notes of alienated longing."
Hansard is performing a string of sold-out appearances in New York beginning tonight with a sold-out solo performance at Town Hall before he joins his 11-piece band at Brooklyn Steel this Sunday.
Between Two Shores, which follows 2015's GRAMMY nominated Didn't He Ramble and 2012's solo debut Rhythm and Repose, is the result of more than six years of writing and recording, yet it came together in only a matter of weeks.
While going through his songbook at Black Box Studios in France last Spring, a sketch of an unplanned record quickly took shape. Featuring material captured in New York and Chicago, it includes a revolving cast of musicians including Brian Blade, Thomas Bartlett, Brad Albetta and Rob Moose along with touring band members Joseph Doyle, Rob Bochnik, Graham Hopkins, Justin Carroll, Michael Buckley, Ronan Dooney and Curtis Fowlkes.
Capturing that feeling of the big soulful sound of Hansard's large touring band, Between Two Shores still retains the intimate introspective nature of his acoustic shows.
Meanwhile, the album's title comes from Hansard's ongoing love of sailing and the sea. When one is equal distance between their starting point and their destination they are, in essence, "between two shores." A less than ideal time to wonder whether you should turn back or continue on, but a thought that inevitably rears its head.
What the critics are saying about BETWEEN TWO SHORES:
"On Between Two Shores, Hansard accomplishes that rare feat of mixing loose and tender vibes with poignant lyrical precision." – Rolling Stone
"One of his most potent and lively sets yet."– Rolling Stone
"Between Two Shores is often far more propulsive than his previous works – see the groove-laden "Roll on Slow" – but Hansard was keen on not betraying his solo acoustic roots." – Rolling Stone
"Glen Hansard Dusts Off His Rollicking Side In 'Wheels On Fire.'" – NPR Music
"'Wheels on Fire' looses a rollicking side to go with a rich infusion of horns and organs." – NPR Music
"The song ['Wreckless Heart'] as a whole creates the feeling of an ocean, the inner ebbs of heartache." - Paste
"[Between Two Shores] promises to be just as easy listening and rich with wisdom [as Didn't He Ramble.] - Paste
"'Roll On Slow', from the forthcoming Between Two Shores, is a meaty thing, all brass and guitar solos, which could pass as a relative at a wedding of the Stones and Springsteen, who also gets a mention in the lyrics." – Hot Press
"Glen Hansard has never suffered from a lack of dedication to his art. It's all or nothing for the songwriter." – The Times
Between Two Shores Track Listing:
1. Roll On Slow
2. Why Woman
3. Wheels on Fire
4. Wreckless Heart
5. Movin' On
6. Setting Forth
7. Lucky Man
8. One of Us Must Lose
9. Your Heart's Not in It
10. Time Will Be the Healer
Glen Hansard U.S. Tour Dates:
1/19 New York, NY Town Hall (solo acoustic) (SOLD OUT)
1/21 New York, NY Brooklyn Steel (SOLD OUT)
1/22 New York, NY Rough Trade (SOLD OUT)
1/23 New York, NY Sheen Center (WFUV event)
3/10 Los Angeles, CA Disney Hall (solo acoustic)
3/11 Los Angeles, CA Disney Hall (w/ LA Philharmonic)
3/12 Oakland, CA Fox Theater
3/14 Boulder, CA Boulder Theatre
3/15 Kansas City, MO The Truman
3/17 St. Paul, MN The Palace Theatre
3/18 Chicago, IL Riviera Theatre
3/20 Royal Oak, MI Royal Oak Music Theatre
3/21 Toronto, ON The Danforth Music Hall
3/23 Boston, MA House of Blues
3/24 Washington DC The Anthem
3/25 Philadelphia, PA Union Transfer
2018 European Tour:
2/09 London, UK Royal Festival Hall
2/10 Utrecht, NL Tivoli Vredenburg
2/11 Utrecht, NL Tivoli Ronda
2/13 Brussels, BE Ancienne Belgique
2/14 Paris, FR Le Trianon
2/16 Zurich, CH Volkshaus
2/18 Vienna, AU Gasometer
2/20 Berlin, DE Admiralpalast
2/21 Berlin, DE Admiralpalast
2/23 Prague, CZ Divaldi DVA
2/25 Brno, CZ Sono Centrum