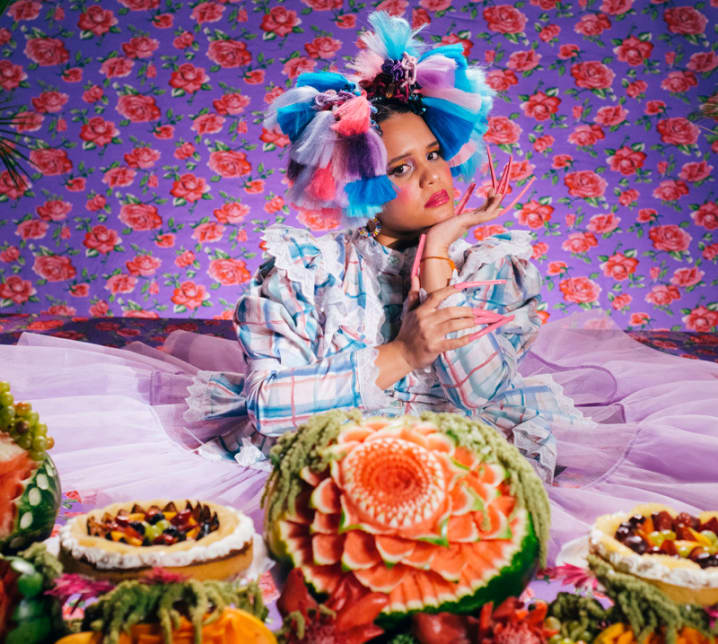 Wednesday, November 10th, 2021
Lido Pimienta Announces 2022 International Tour Dates
"A woman demanding to be heard and seen ... she's calling out her whole country on 'Miss Colombia'," said NPR's All Things Considered when Lido Pimienta released her latest album in April of 2020. Today Pimienta has announced 2022 international tour dates in support of that record, spanning the US, Canada and Europe and featuring support from Y La Bamba. All upcoming dates are listed below.
A break out album, Pimienta received her first-ever Grammy and Latin Grammy nominations for 'Miss Colombia'. It fuses electro-cumbia with pop, resulting in a record that is as fascinating as it is powerful. Its title was in-part inspired by the 2015 Miss Universe mishap in which Steve Harvey mistakenly crowned Miss Colombia, instead of Miss Philippines. It caused Lido to reflect on the anti-blackness she's experienced. "These 11 songs form a full-throated declaration of mastery, all the more impressive for Pimienta's insistence on prioritizing Afro-Colombian rhythms and instruments in an overwhelmingly white musical landscape," said Pitchfork.

Lido Pimienta also recently composed the score for a new performance by contemporary choreographer Andrea Miller (GALLIM) that made its world premiere at the New York City Ballet Fall Fashion Gala on September 30th. Pimienta performed the piece live on stage with the company, which included the Fall Fashion Gala premiere, and five additional presentations that ran through October 12 at Lincoln Center. Pimienta is one of only a few female composers in the Company's history to create a commissioned score, as well as the Company's first-ever female composer of color.
2021 TOUR DATES
11/10 – New Haven, CT – College Street Music Hall%
11/11 – Washington DC – The Anthem%
11/13 – Boston, MA – House of Blues Boston%
11/14 – Boston, MA – House of Blues Boston%
11/15 – New York, NY – Terminal 5%
11/16 – New York, NY – Terminal 5%
12/3 – Medellin, Colombia – Orquideorama#
12/7 – Bogota, Colombia – Multiparque#

% - with Sylvan Esso
# - with Bomba Estereo


2022 NORTH AMERICAN TOUR DATES
2/11 – Toronto, ON – The Axis Club w/ R. Flex
2/26 – Campbell River, BC – Tidemark Theatre w/ Kinnie Starr
3/2 – Victoria, BC – Capitol Ballroom&
3/3 – Vancouver, BC – Fortune Sound Club&
3/4 – Seattle, WA – Nectar's &
3/6 – Portland, OR – Doug Fir Lounge
3/8 – San Francisco, CA – The Chapel&
3/9 – Los Angeles, CA – Lodge Room&
3/11 – San Diego, CA – The Casbah&
3/12 – Palm Springs, CA – The Alibi&
3/13 – Phoenix, AZ – Crescent Ballroom&
3/15 – Albuquerque, NM – Launchpad&
3/16 – Santa Fe, NM – Tumbleroots Brewery&
3/20 – Mexico City, MX – Vive Latino
3/24 – 3/25 – Knoxville, TN – Big Ears Festival
3/26 – Nashville, TN – Third Man Records

& - with Y La Bamba


2022 EUROPEAN TOUR DATES
5/4 – Valencia, Spain – Loco Club
5/5 – Barcelona, Spain – La Nau
5/6 – Madrid, Spain – Conde Duque
5/7 – San Sebastian, Spain – Dabadaba
5/9 – Brussels, Belgium – Les Nuits Botanique
5/10 – Amsterdam, Netherlands – Melkweg
5/12 – London, UK – King's Place
5/16 – Heidelberg, Germany – Karlstorbahnhof
5/17 – Berlin, Germany – Kantine Am Berghain
5/19 – Paris, France – Hasard Ludique