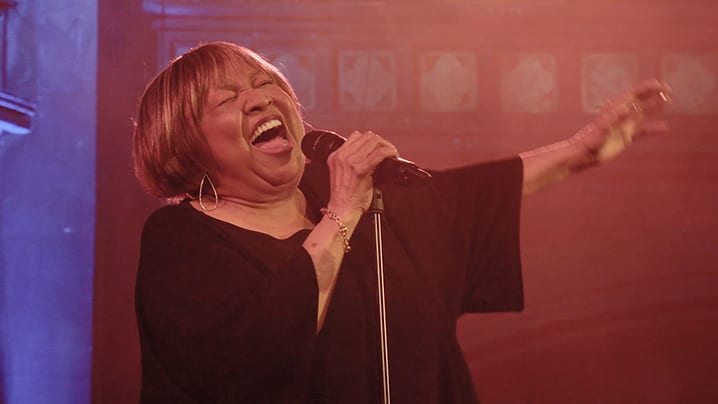 Monday, November 5th, 2018
Mavis Staples Announces 'Live in London,' To Be Released February 8, 2019
"It's kind of unbelievable to me that I'm still recording," said the 79 year old Rock and Roll Hall of Famer and Kennedy Center Honoree Mavis Staples.
"I never thought I would still be singing at my age, and people seem to really want to hear me, they know me, they give me love—I'm just overwhelmed, really. I thank God every night before I go to bed and then again every morning for waking up."

Today Staples is announcing Live in London, a new live album recorded over two nights at London's Union Chapel (which she calls "the best place in the world to sing") and produced by Staples herself. Live in London reveals that the singer retains astonishing power after seventy years as a performer and that while her repertoire continues to expand her philosophy is unchanged since her days in the groundbreaking family group, the Staple Singers.

Watch her perform "No Time For Cryin'" at Union Chapel HERE, a song whose message "We've got work to do" is more than relevant to tomorrow's important United States mid-term elections. Ironically her last live record—2008's 'Hope at the Hideout'—was cut against the background of her fellow Chicagoan Barack Obama's historic election, while the new album inevitably addresses the horrors of the Donald Trump era. "No Time for Cryin' " not only connects the timeless gospel image of "motherless children" to the modern-day refugee crisis, it also calls for action, just as Pops Staples and his children did during the Civil Rights movement.
[youtube id=Z7m-kbPOrl8]

With the recent passing of her sister Yvonne and her dear friend Aretha Franklin, Mavis Staples is one of our few remaining links to an extraordinary time when the gospel tradition and the fight for social justice were deeply and movingly entwined. The focus of this collection is material she has recorded since signing with ANTI- Records in 2007. In recent years, Staples has had songs written for her by iconoclastic artists like Nick Cave, Neko Case, and Merrill Garbus (Tune-Yards); collaborated with modern rock powerhouses Arcade Fire, Gorillaz, and Hozier; and recorded multiple albums working with Jeff Tweedy from Wilco.

"I've stretched out—I'm singing songs that rock stars have written for me," says Staples, "but they know me and the kind of songs I want to sing." She points to the opening song on Live in London, "Love and Trust," which was composed by Ben Harper. "I love that song, it's a beauty," she says. "I've been sending a message of love and trust since the Sixties, and I'm still searching for that."
TOUR DATES
11/9 – Lafayette, LA – Acadiana Center For The Arts
11/11 – Highlands, NC – Highlands Food and Wine Festival
12/1 – Seattle, WA – Moore Theatre
12/6 – Lynchburg, VA – Academy of Music Theatre
12/7 – Philadelphia, PA – World Café Live
12/8 – Philadelphia, PA – World Café Live
1/18 – Aspen, CO – Belly Up
1/20 – Fort Collins, CO – Lincoln Center Performance Hall
2/21 – Paducah, KY – Clemens Fine Arts Center
3/22 – Jackson, MS – Thalia Mara Hall
4/18 – 4/20 – Byron Bay, Australia – Byron Bay Bluesfest

'LIVE IN LONDON' TRACK LISTING
1. Love and Trust (Written by Ben Harper)
2. Who Told You That (Written by Jeff Tweedy)
3. Slippery People (Written by Talking Heads)
4. What You Gonna Do – Intro
5. What You Gonna Do (Written by Pops Staples)
6. Take Us Back (Written by Benjamin Booker)
7. You Are Not Alone (Written by Jeff Tweedy)
8. No Time For Cryin' (Written by Jeff Tweedy and Mavis Staples)
9. Can You Get to That (Written by George Clinton and Ernie Harris)
10. Let's Do It Again (Written by Curtis Mayfield)
11. Dedicated (Written by Justin Vernon and Matthew Ward)
12. We're Gonna Make It (Written by Gene Barge, Billy Davis, Raynard Miner and Carl William Smith)
13. Encore: Happy Birthday
14. Touch A Hand (Written by Homer Banks, Carl Hampton and Raymond Jackson)