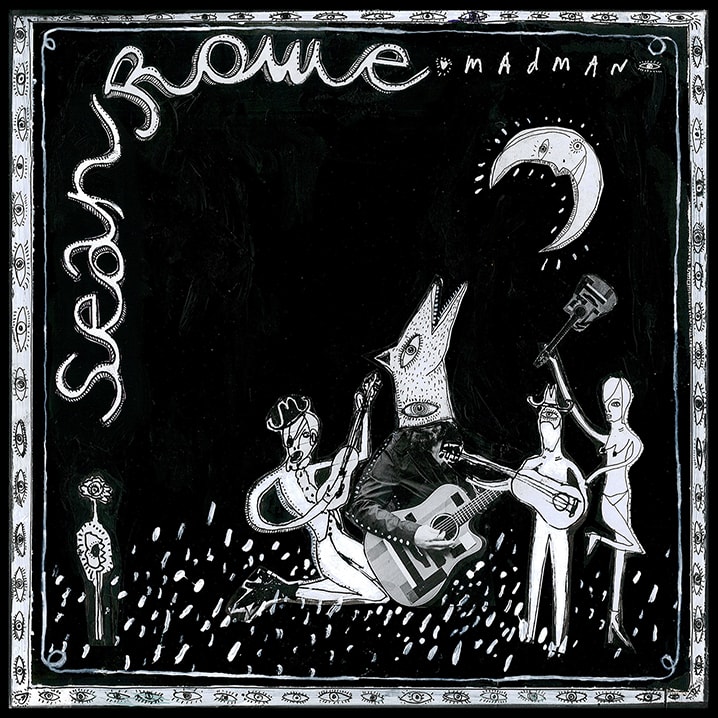 Tuesday, September 9th, 2014
Sean Rowe's New Album "Madman" Out Now
Acclaimed singer and songwriter Sean Rowe's riveting new album Madman is now in stores. On his new record, Rowe has created a beautifully primal work. The record is deliberately, if not defiantly, simple in both arrangement and composition. It is soul music in the purest and most literal sense. The early reviews have been uniformly positive. "It stirs something primal inside you," writes CMT Edge
href="http://www.gq.com/blogs/the-feed/2014/09/the-gq-punch-list-sean-rowe-the-skeleton-twins.html">GQ.com> is currently premiering a new video for the song "Desiree," Rowe's raucous deconstructed take on early disco. The clip features Rowe gradually finding his joy at a traveling carnival with backup dancing from an enthusiastic blow up figure. Watch the clip here: href="http://www.gq.com/blogs/the-feed/2014/09/the-gq-punch-list-sean-rowe-the-skeleton-twins.html">GQ.com>
Rowe spent much of the previous year traveling the country with his guitar, performing in people's living rooms for a series of house concerts. In this deliberate contradiction to the prevailing expectations of a professional musician, Rowe chose to interact with fans in the most intensely personal manner.
Madman was produced by Rowe and engineer Troy Pohl. Rowe says the intent was to focus on the voice and guitar style he had perfected in theaters, nightclubs and people's living rooms. "I came to this realization that the songs don't have to be structurally heavy to be intense," he explains. "It's more about the honesty and emotion behind the delivery. A lot of these songs are pretty simple but I was really thoughtful about that, it was intentional. I wanted to go right to the heart."
Early reviews for Sean Rowe's Madman….
"Sean Rowe is an intense man. When he sings, shouts, bangs that guitar, you sit up and take notice, listen, absorb. You're right there with him, not gazing into a phone's glowing screen or pretending not to care. His kind of intensity pulls you in and keeps you there in the moment, until he's done with you and spits you out the other side." - Esquire
" This time around, Rowe bares his teeth, shows his heart and scratches out a fantastic collection of songs that are as memorable for their songwriterly focus as they are for his beautiful baritone bellowing. " - Exclaim
" At the core of every song is Rowe's remarkable voice, which sounds inescapably melancholy, tremendously sexy and often slightly menacing. It does all sorts of things well, and its full range is on display here. It seems worth mentioning Rowe's interest in foraging and wild-crafting (see his series of videos on the many uses of milkweed). It's the idea of taking the bounty that's out there, and of using your skills to transform it into something useful, beautiful, remarkable. It's what Rowe does with his music, too." - NPR
"It's an exceptional display of his commanding yet tender baritone, as well as his solo guitar playing, which can easily stand in for a full band when the occasion calls for it." - Fader
"there is something altogether mesmerizing about Sean Rowe's baritone. And that's even before you start digging to understand the character behind the music." - MP3Hugger.com
SEAN ROWE Tour Dates:

9/13: Hastings On Hudson, NY at The Purple Crayon
9/14: Pittsburgh, PA at Club Cafe
9/16 Nelsonville, OH at Stuarts Opera House Backstage
9/17: Louisville, KY at Waterfront Park for WFPK Waterfront Wednesdays
9/18: Nashville, TN at Mercy Lounge
9/19: Duluth, GA at Red Clay Theatre w/ Amy Ray
9/21: Asheville, NC at The Mill w/ Ethan Johns
9/23: Vienna, VA at Jammin Java
9/24: Philadelphia, PA at WCL
9/25: NYC at Rockwood 2
9/26: NYC at Rockwood 3
10/1: Northampton, MA at The Parlor Room
10/2: Providence, RI at Columbus Theatre
10/3: Troy, NY at Cultural Arts Center
10/4: Woodstock, NY at Colony Cafe
10/11: Los Angeles, CA at The Mint with Ethan Johns
10/13: Santa Barbara, CA at Soho
10/14: Cambria, CA at the Wise Owl: Songwriters At Play Series
10/15: San Francisco, CA at Hotel UTAH
10/16: Santa Cruz, CA at The Crepe Place
10/19: Portland, OR at Mississippi Studios
10/21: Seattle, WA at The Sunset Tavern
10/23: Cottage Grove, OR at Axe & Fiddle
10/26: Santa Monica, CA at McCabes
11/14: Albany, NY at the College of Saint Rose: Masry Center for the Arts

SEAN ROWE W/ Shakey Graves

12/3: Chicago, IL at Lincoln Hall
12/4: Milwaukee, WI at Turner Hall
12/5: Madison, WI at High Noon
12/6: Minneapolis, MN at The Cedar Cultural Center
12/7: Des Moines, IA at Wooly's
12/9: Omaha, NE at The Waiting Room
12/11: Denver, CO at The Bluebird
12/12: Denver, CO at The Bluebird
12/14: Colorado Springs, CO at Ivywild School