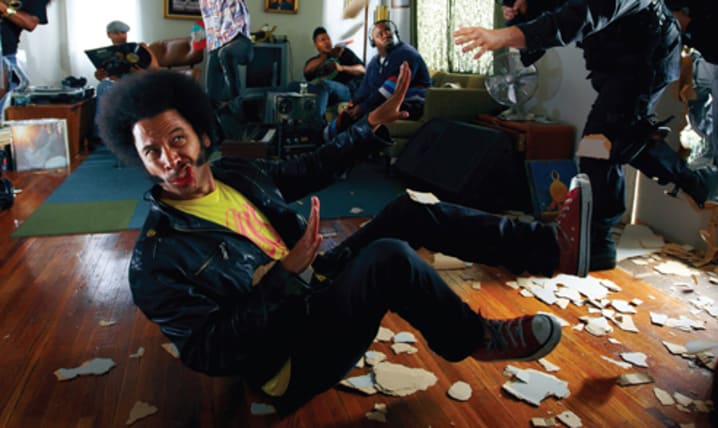 Monday, August 13th, 2012
The Coup Announce New Album
Revolutionary musical collective The Coup will release their new album Sorry To Bother You this October 30th via Anti- Records. The Coup consists of vocalist-writer and activist Boots Riley accompanied by a versatile cadre of musicians. To listen to the albums opening track, visit href="http://www.huffingtonpost.com/2012/08/13/the-coup-announce-their-u_n_1772243.html">Huffington Post.
Sorry To Bother You is an audacious new work by a visionary band. The tracks merge danceable beats, punk urgency and the astute social commentary of hip-hop to craft a refreshingly unique sound that draws from the past but never sounds anything but futuristic. "I think our albums are always really different than what else is being put out there at the time," Riley says. "It's why I think people can listen to the records and not know when they were made and it's why our audience is constantly evolving."
Called one of their "10 most influential people" by Vibe Magazine, Riley has also collaborated with Tom Morello (Rage Against The Machine), New Orleans band Galactic, Atari Teenage Riot and more. He is currently a prominent figure in the Occupy Movement, participating in actions and speaking on racism, capitalism, and grassroots organizing throughout the world.
Sorry To Bother You is the long awaited follow up to The Coup's critically acclaimed album Pick A Better Weapon, which the Mojo described as "Smart, sensual, self-loving and self-critical, pissed-off and hilarious" and moved Billboard to call the band "the best hip-hop act of the last decade." For their latest, Boots Riley conspired with co-producer and longtime friend Damion Gallegos, intent on creating a radical new sound utilizing unconventional recording techniques and seemingly incongruous musical styles. The result is an exhilarating highly original music that perfectly animates Riley's provocative and poetic lyrics.
The album, which features guest appearances by Vernon Reid, Anti-Flag, Das Racist, Killer Mike, Japanther, Jolie Holland, and Joe Henry among others, explodes on the opening track "Magic Clap" an energetic burst of hip-hop infused soul driven by a relentless punk beat. While the song has the rousing celebratory vibe of a classic radio hit, there is a more profound significance within Riley's lyrics. "We started out trying to make a mid seventies punk thing and then found the Motown roots of that," Riley explains. "The meaning of the song can be found in the last line, 'When we slap back, that's the magic clap.' It's about everything that leads up to that moment when people decide to fight back, when thought leads to action."
A track "The Gods Of Science" features a pulsating funk riff under Riley's ingenious word play. On "You Are Not A Riot (An RSVP from David Siqueiros to Andy Warhol)" Riley envisions a contentious meeting between radical Mexican muralist David Siqueiros and pop art star Andy Warhol, the scene accompanied by a frenetic burst of futuristic new wave.
"You hear a lot of early punk and eighties music in this record- but, for the most part, we didn't realize that as we were making it," Riley says. "I like music that is aggressive but that you can also dance to. Some times those things are considered to be in different categories, but I try to mix them. I also wanted the album to sound rough. I think sometimes music these days is so perfect and predictable that it almost cancels itself out. Maybe if there's some tension people will hear it better."