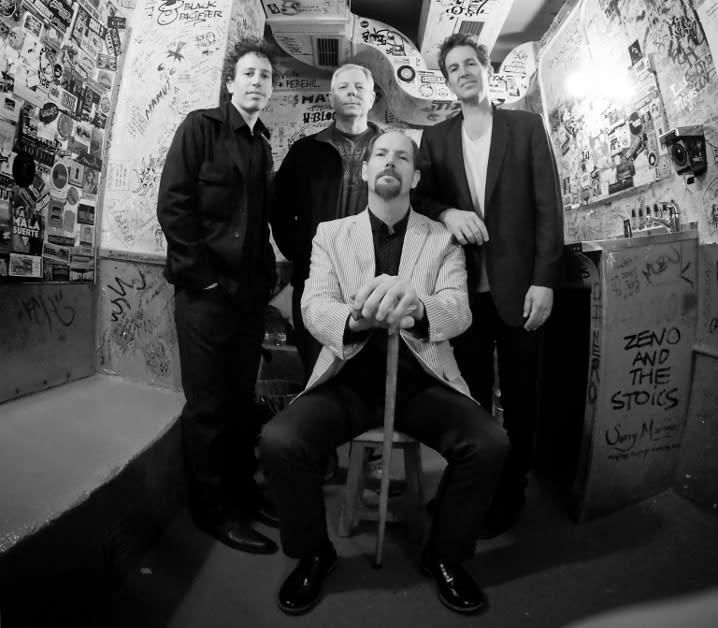 Wednesday, May 31st, 2017
The Dream Syndicate Curated Playlist
Following the announcement of influential indie rock band, The Dream Syndicate, signing to Anti we got some of their biggest fans to curate a playlist of favorite songs from their past releases. Contributors include J Mascis (Dinosaur Jr.), Ira Kaplan (Yo La Tengo), Peter Buck and Mike Mills (R.E.M.), Chris Robinson (Black Crowes), Vicki Peterson (Bangles), Brian King (Japandroids) and novelist George Pelecanos. Listen below and read along as to why these songs made a lasting impact on these talented artists.
"Tell Me When It's Over"
Peter Buck From R.E.M.
It's been one of the great pleasures of my life to play "Tell Me When It's Over" with Steve over the last few years. The Dream Syndicate version is a perfect distillation of Los Angeles noir and febrile, menacing garage rock.
---
"That's What You Always Say"
Mike Mills from R.E.M.
Picking just one Dream Syndicate song is just a difficult as one might think, but this one resonates in both past and present. After the bass announces its angular approach, the guitar nestles in with a sexy, slinky, yet slightly annoyed statement of intent. It then crashes into the chorus with an excitingly bitter roar. Still one of my favorite songs to play with Steve today.
---
"Then She Remembers"
Rishi Dihr from Elephant Stone
Not sure what I can say about Dream Syndicate that hasn't already said... a West Coast band in the early 80s channeling Television/The Stooges/VU... even more so on "Then She Remembers". Definitely the most driving/garagey tune off of their brilliant debut LP. Beneath all this is some darkly evocative lyrics courtesy the amazing Steve Wynn. Hits all the right spots. Classic.
---
"When You Smile"
Vicki Peterson from The Bangles
It changed how I approached writing and guitar playing. Simply and completely. "When You Smile" -- the squeal of feedback, a pulled-back guitar arpeggio and then a hypnotic vocal singing about the end of the world. By the time the drums come in under the ridiculously infectious guitar line, I was schooled. I realize that there are only two things we need to do with our music: Make Noise. Tell Stories. The Dream Syndicate does that better than almost anyone.
Tim Presley from White Fence
Sometimes there's a song or music that seems so simple, melodically right and excitingly wrong, that it inspires you to be creative. It has given you the negative space for you to try positively.
Lucas Fitzsimons from The Molochs
My favorite song is "When You Smile" off The Days Of Wine And Roses album. There's a different version on an EP that's amazing as well. It's a very captivating song. The lyrics and the vocal delivery are very captivating. It conveys a very specific apocalyptic kind of feeling - a familiar feeling for those who often become infatuated.
---
"Burn"
John Stirratt from Wilco
This was the song from the DS record I was most drawn to, after getting into them in reverse- (Ghost Stories first) After being immersed in Days of Wine and Roses, this record had more clarity, and varied instrumentation. Dark, urban American music.
---
"Black"
Sean bohrman from Burger Records
For my Dream Syndicate song I chose "Black" from their final album "Ghost Stories" from 1988. It's a really great song that is buried at the end of their last album, but I feel would not have been out of place on their debut Days of Wine And Roses. It's a hit and totally feels like a return to form when they seemed to be winding down as a band. It's a shame we had to wait so long for a new record to be made, but happy it's finally here!
---
"John Coltrane Stereo Blues"
Chris Robinson from The Black Crowes
"John Coltrane Stereo Blues" is an entrance, a threshold broken, a jump into the void of dirt & diamonds, the snakeskin hours, the levitation of our senses, lust & wanting on a 3 ply rug. So give me a swig off that jug, cause the man told me "it's gonna be alllllllriiiiiightttt........"
---
"Halloween"
J Mascis from Dinosaur Jr.
"Halloween" is an eerie number. When the second guitar kicks in I think of a stage covered with fog, Karl stepping to the front of the stage and unashamedly striking a rock pose. It helped me feel alright about playing leads which were so hated at the time. Steve's more jangly sound also influenced my choice of getting a fender for my first guitar to start Dinosaur. I wanted to write some songs, strum, then kick in to some fuzz for the lead. It was all there in The Dream Syndicate.
---
"The Medicine Show"
Stephen McCarthy from Long Ryders
I was already a fan of this great LA quartet when I got the call in 1984 to come sing (background vocals) on their major label debut. Sandy Pearlman was working his magic behind the curtain in S.F. The mood was hypnotic & Steve Wynn & the band were on fire. Maybe it was the elixir but I think I saw that Gypsy Sky. I have been under the spell ever since!
---
"Merrittville"
George Pelecanos (Author)
Tough to pick one track from a band whose catalog I so admire, but I have to go with "Merrittville," off 1984's The Medicine Show. Ending the record, and coming off the phenomenal jam "John Coltrane Stereo Blues" on Side 2, "Merrittville" is a stunning ballad that builds to a powerful conclusion. I can remember putting this on the platter and listening to it for the first time, astonished by the dark literacy of the lyrics, one of the best examples of Steve Wynn's storytelling genius, a goth-noir tale worthy of Flannery O'Connor. But it's the music that drives this up to the next level. Defined at first by guest pianist Tom Zvoncheck, the song goes from slow-burn to a for-the-ages guitar dual between Steve and Karl Precoda. When I think of The Dream Syndicate, and what the band represented, this is the first track that comes to mind.
---
"Some Kinda Itch"
Ira Kaplan from Yo La Tengo
Playing live over the radio prior to the release of The Days of Wine and Roses, the Dream Syndicate rethink "Some Kinda Itch." Instead of the "You're Gonna Miss Me" roar of the Down There ep's version, they sound to me more like the Jefferson Airplane than any band with whom they're more commonly associated.
---
"The Days Of Wine And Roses" from Live At Raji's
Brian King from Japandroids
The Days Of Wine And Roses was my introduction to The Dream Syndicate, and the very beginning of my love affair with the band and their music. My discovery coincided with the writing/recording of our second album, and our song, The Nights Of Wine And Roses, was inspired by (and named in homage of) theirs. While I like the album version, I LOVE the version from Live At Raji's, which is not only my favourite Dream Syndicate album, but one of my favourite live albums of all time. It's a very spirited rendition, with intense and energetic performances all around, culminating in a blistering guitar solo and a wild breakdown, where the band breathes for a moment as Steve sneaks in snippets of The Stooges and Bo Diddley. A great performance of a great song.
---
Listen To The Full Playlist: