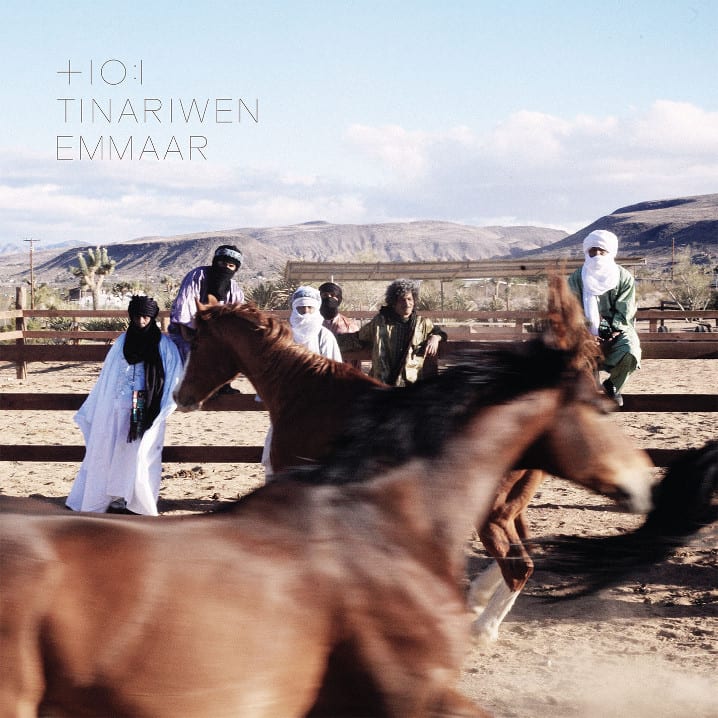 Tuesday, January 14th, 2014
Tinariwen Premiere New Song and Video
OkayAfrica.com is premiering a new song and video from the acclaimed North African Tuareg band Tinariwen. The powerfully hypnotic song "Imidiwan Ahi Sigdim" is from the band's highly anticipated new album Emmaar which arrives in stores this February 11th. The appropriately hallucinatory clip features a striking montage of desert imagery over the song's soulful guitar and vocalrefrain.
Watch the video for Tinariwen's "Imidiwan Ahi Sigdim" via OkayAfrica href="http://www.okayafrica.com/2014/01/14/tinariwen-imidiwan-ahi-sigdim-video/">here>.
Tinariwen will bring their electrifying nomadic guitar sound to town's across North America when they tour in support of Emmaar. Due to unrest in the band's homeland, the album was recorded in Joshua Tree, California, a region known for spaced-out rock 'n'roll and psychedelic cowboy folk. Along with the band, a group of American musicians appear including Red Hot Chili Peppers guitarist Josh Klinghoffer, Matt Sweeney from Chavez, Nashville fiddler Fats Kaplin, and poet Saul Williams. The record was mixed by Vance Powell (Jack White, The Dead Weather) and offers a richly layered sound solidified by atmospheric textures and gritty guitar-work.
Tinariwen Tour Dates March 13, 2014 Austin, TX SXSW
March 18, 2014 Nashville, TN The Hight Watt
March 19, 2014 Athens, GA Georgia Theatre
March 20, 2014 Carrboro, NC Cat's Cradle
March21, 2014 Philadelphia, PA Prince Music Theater
March 22, 2014 Washington, DC Sixth & I Historic Synagogue
March 23, 2014 Brooklyn, NY Brooklyn Bowl
March 24, 2014 Brooklyn, NY Brooklyn Bowl
March 25,2014 Boston, MA Paradise Rock Club
March 26, 2014 Ridgefield, CT The Ridgefield Playhouse
March 27, 2014 Northampton, MA Iron Horse Music Hall
March 28, 2014 Portland, ME Port City Music Hall
April 1, 2014 Pittsburgh, PA Warhol's Entrance Space
April 2, 2014 Kent, OH The Kent Stage
April 4, 2014 Nelsonville, OH Stuart's Opera House
April 5, 2014 Chicago, IL City Winery
April 6, 2014 Minneapolis, MN Cedar Cultural Center
April 8, 2014 Madison, WI Majestic Theatre
April 9, 2014 St. Louis, MO Old Rock House
April 11, 2014 Denver, CO Bluebird Theatre
April 12, 2014 Salt Lake City, UT The State Room
April 14, 2014 Seattle, WA Illsley Ball Nordstrom Recital Hall
April 15, 2014 Portland, OR Aladdin Theater
April 17, 2014 Los Angeles, CA The Belasco Theater
April 18, 2014 Grass Valley, CA The Center For The Arts
April 19. 2014 San Francisco, CA The Nourse Theater
April 21, 2014 Phoenix, AZ MIM Music Theater
April 22, 2014 El Prado, NM Taos Mesa Brewing
April 24, 2014 New Orleans, LA House of Blues
April 25, 2014 Lafayette, LA Festival International de Louisiane
April 26, 2014 Lafayette, LA Festival International de Louisiane