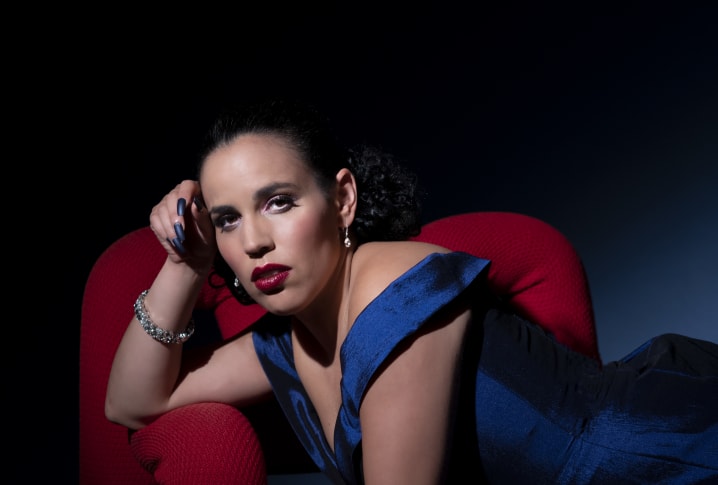 Tuesday, September 14th, 2021
Xenia Rubinos Releases New Track "Don't Put Me in Red" Ahead of Highly-Anticipated Album 'Una Rosa'
The final countdown to Xenia Rubinos' highly-anticipated album Una Rosa has begun. Just over a month ago she released Sacude, an intense and electrified Rita Indiana and Rumba-inspired track. 'Don't Put Me In Red' adds yet another label of versatility to the sonic landscape of this album.
A song that Xenia considers a turning point of the album- the 7th song that occurs on the album's Blue/B-side, marks a shift into a more introspective sound. The song, at its core, is a plea to 'let me be'- while emphasizing the strength in that feeling, the assertion that there is space for the person needing to say it. The lyrics were inspired by a recurring experience that Xenia would have on tour, when lighting engineers would throw on a red light and just leave it up 'like it was their default red latina lighting' Xenia says. The experience became a constant frustration and Xenia made it a point to approach the lighting engineer before the show and say 'look, I don't know anything about stage lighting so do whatever you want but please just please don't put me in red. It became my request at whatever venue or festival we were at, it was a pilgrimage I would make every night after soundcheck to find the lighting engineer and ask them to please not put me in red. It became this ritual of protecting my space onstage at least the little bit I could.'
Much of the song was left wordless intentionally, creating 'a dream space that becomes a nightmare where I'm running down a long hallway with people chasing and grasping at me,' she says. In an attempt to find the words, Xenia looked at a map of Puerto Rico she had hanging in her studio and started singing the names of the towns over a beat, and eventually, the lyrics appeared. Two of the cities from that exercise remain in the final lyrics, 'Guayama and Cayey She later found out that her great-grandmother (Abuela Tavi) might have been from Guayama- a hilly town where las brujas come from.
The song's visualizer is directly inspired by the sound. With tinges of French arthouse, it makes use of 'feeling captions'- creating an almost entirely separate-but-necessary narrative that runs parallel to the song. 'As we produced the track I started to imagine a gigantic thunderstorm slowly rolling over the ocean and unfolding right before my eyes. I knew I wanted to make a visualizer to embody this feeling of something dark and stormy washing over me, something with heavy explosive feelings like thunder and heavy rain,' says Xenia. Xenia collaborated with Zoe Fitzgerald aka Fatblood who built a fiber-optic flower as a centerpiece inspired by the album.
'Don't Put Me In Red' is the sixth and final single off of the forthcoming album Una Rosa which is due out October 15 via Anti- Records. The record comes five years after her critically acclaimed 2016 release Black Terry Cat which the New Yorker called 'rhythmically fierce, vocally generous music that slips through the net of any known genre.' Una Rosa is a cinematic obra, an imagined night time space where you're transported through the lives of various characters, all of whom are sonically painted in each track. The record is two-sided- the 'RED' A side, featuring tracks that are hot, aggressive, in-your-face fiery drama, and the 'BLUE' B side, which presents a more introspective yet expansive mood.
Sonically, the album is somewhat of a departure from her earlier work- rather than striving for pitch-perfect vocals and tight live instrumentation, she cut most of the vocals in a single take, only tinkering with them after the fact. It's an album centered around a multi-layered audiovisual story and the characters it contains. A true expansion of what the world knows to be Xenia's palette, it features some of the most complex and cinematic production that she's done to date. Emotional, vulnerable, and spontaneous, Una Rosa is a journey that keeps the listener constantly anticipating the next turn.