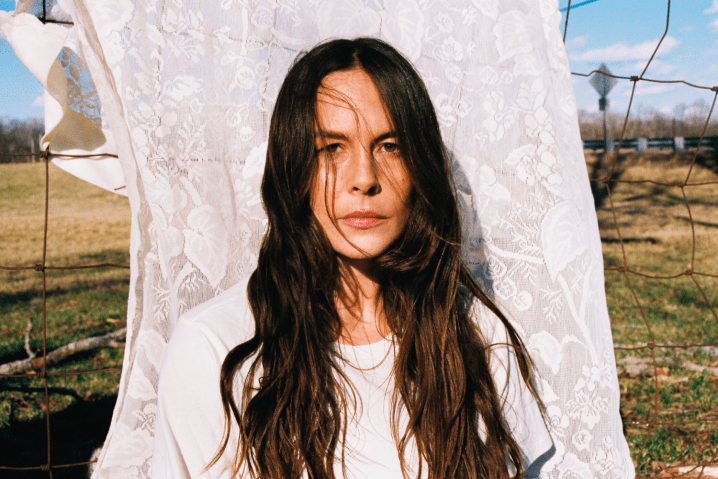 Tuesday, October 10th, 2023
Madi Diaz Announces New Album, Weird Faith, Out February 9th, 2024 on ANTI-
Today, Nashville singer-songwriter Madi Diaz announces Weird Faith, her new album out February 9th, 2024 on ANTI-, and presents its lead single/video, "Same Risk." With Weird Faith, Diaz , who "makes even the most immovable feelings open up with just a little time and space" (Pitchfork), comes up against a problem that has dogged songwriters since time immemorial: how do you write about romance, or love, without making it sentimental or fake? For Diaz, the answer was to explore how anxiety-inducing — if not downright humiliating — falling in love can be. Weird Faith answers these questions bluntly, and Diaz says the record "chronicles a new relationship, but also a new relationship to myself."
Diaz has been making records and writing songs professionally since the late 2000s, but it wasn't until she released History Of A Feeling, hailed by Rolling Stone as "one of 2021's best kept secrets," that she felt the glare of wider notoriety. It wasn't her debut album, but it certainly felt like it. She made her daytime and late night television debuts, embarked on her first solo tour since 2014, supported Waxahatchee and Angel Olsen on tour, and collaborated with them on record. Harry Styles handpicked Diaz to open for him in arenas and stadiums in North America, and was so taken by her captivating live show, he asked her to be a member of his touring band, to sing alongside him all over Europe and the UK, as well as continuing to open the show in various cities. Time on the road renewed Diaz's excitement about her own project and her own story. After three months on the road touring internationally, Diaz is back in Nashville, perched on the precipice of her moment with Weird Faith.
Weird Faith exists between the time you say "I love you" and the moment they say it back (or don't), and captures the endless self-questioning a new relationship inspires. Diaz comments, "This record is about the beginning of love, and saying every feeling out loud, when I feel it, for better or worse because I can't help it." Album opener "Same Risk" acknowledges that feeling from the outset. "Do you think this could ruin your life? // Cause I can see it ruining mine," Diaz asks plainly. It's a disarmingly honest moment, her barefaced and fearless lyrics becoming all the more impactful as the rhythm section briefly drops out of the mix. It's one of the many breathtaking production choices Diaz made on the album, with help from friends and co-producers Sam Cohen and Konrad Syder. The album also features Kacey Musgraves who joins Diaz for a duet on the devastating ballad "Don't Do Me Good."
The song is accompanied by a gorgeous video co-directed by Diaz and Elizabeth Olmstead.
Watch Madi Diaz's "Same Risk" Video

When Diaz started writing Weird Faith, she knew it would be bigger than a love story. She didn't yet know that she was rendering a self-portrait, one that captures the Madi Diaz of a fleeting moment in time, hungrily alive and forever searching. A search that has led to a record highlighting the human experience of spinning out on the fall into love, bold in its honesty, and matching the momentum of Madi Diaz.
Following a headline show in London this Thursday, Diaz will embark on a North American tour supporting My Morning Jacket later this month. A full list of dates is below, and tickets are on sale now.
Madi Diaz Tour Dates:
Thu. Oct. 12 - London, UK @ Bush Hall
Tue. Oct. 17 - Toronto, ON @ Massey Hall *
Thu. Oct. 19 - New York, NY @ Beacon Theatre *
Fri. Oct. 20 - New York, NY @ Beacon Theatre *
Sat. Oct. 21 - New York, NY @ Beacon Theatre *
Tue. Oct. 24 - Boston, MA @ Roadrunner *
Wed. Oct. 25 - Albany, NY @ Palace Theatre *
Fri. Oct. 27 - Philadelphia, PA @ The Met *
Sat. Oct. 28 - Philadelphia, PA @ The Met *
Mon. Oct. 30 - Birmingham, AL @ Alabama Theatre *
Tue. Oct. 31 - New Orleans, LA @ Orpheum Theater *
* w/ My Morning Jacket