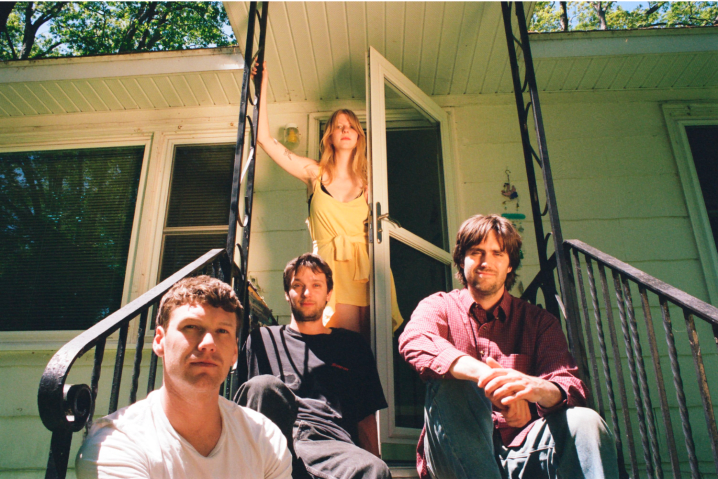 Tuesday, August 22nd, 2023
Slow Pulp Presents New Single/Video, "Broadview"
Slow Pulp — the Chicago-via-Madison quartet composed of vocalist Emily Massey, guitarist/producer Henry Stoehr, bassist Alex Leeds, and drummer Teddy Mathews — presents the new single/visualizer, "Broadview," from their highly anticipated new album, Yard, out September 29th on ANTI-. You can feel Massey reaching new vocal heights across Yard, particularly on "Broadview," a weepy Americana ballad featuring pedal steel from Peter Briggs and Willie Christianson on the harmonica and banjo. "This song is about letting yourself fall in love for the first time in a long time," Massey says. "After being hurt in previous relationships I was trying to decide if making the jump was worth it. Turns out it was." The accompanying visualizer by Melanie Kleid is a stunning collage of animations that evoke late-night summer love.
Following a wide-ranging breadth of singles —the electric "Cramps," syrupy lead single "Slugs," and the recently-shared anthem "Doubt" — "Broadview" offers another beautiful glimpse of Yard's vast sonic palette. Later this fall, Slow Pulp will embark on an extensive tour in support of Yard, with many dates — including New York City, Boston, Denver, and more — already sold out. All currently -announced dates are listed below and remaining tickets are on sale now.
Building upon the sticky hooks and dreamy rock seen in Slow Pulp's earlier music, Yard crafts together a bigger sound. Through listless guitar, a raw-to-the-bone piano ballad, and belt-along worthy pop-punk, Slow Pulp tackles themes of isolation and the process of learning to be comfortable with yourself, along with the importance of learning to trust, love, and lean on others. The result is a lightning-in-a-bottle synthesis of what has made Slow Pulp one of the most beloved indie groups in recent memory.
Within Slow Pulp, trust between members is evident in the playful collaboration that remains core to their creative process. Like they did on their beloved 2020 debut, Moveys, Massey recorded vocals for Yard with her dad, Michael, in his small home studio. "Working together we can be very honest with each other in a way that I wouldn't be able to do with a stranger or a producer that's not my family," says Massey. "He already has so much context for what the songs are about, knowing my life so intimately. He is able to be very direct, saying things I often don't want to hear but need to hear. I think it often leads to getting the best takes out of me."
Across Yard, Slow Pulp nestles comfortably into pockets of nuance, impressions, contradictions—sonics and lyrics finessed together to bottle the specific tension of a feeling you've never quite been able to find the right words for. Perhaps this spawns from the band's own shared history and chemistry; in various ways, the four of them grew up—are still growing up—together.