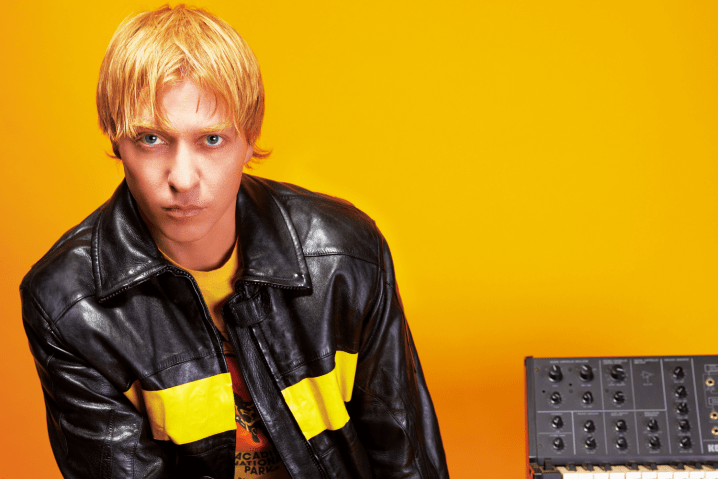 Wednesday, August 16th, 2023
The Drums Release New Single "Isolette"
The Drums have debuted a new song titled "Isolette" today, the latest preview of figure-head Jonny Pierce's forthcoming sixth studio album Jonny. An album a lifetime in the making, Jonny is a body of work imbued with forgiveness and self-acceptance for the parts of himself that he'd previously blanched away from: the scared, hurt kid who worked hard to survive an abusive home, the young adult who peered out at the world through a hardened shell. Distilled aptly on the springy, guitar-gilded "Isolette" – the French word for 'incubator' – he delves into how that seal between himself and the world both offered a level of safety and led him into emotional starvation. Listen to "Isolette" now here, and pre-order Jonny now here ahead of its release on October 13, 2023 via ANTI- Records.
"My mother experienced what is referred to as a birth trauma when she was pregnant with me," says Pierce about the inspiration for "Isolette." "A doctor broke her water without her consent, and she immediately went into painful, traumatic labor. I was born prematurely. They rushed me into an incubator where no one was able to touch me. Over the course of the pandemic, I took a lot of psych courses. In child psych, I learned that it is of utmost importance for a mother to have skin contact with her baby. It's fundamental for bonding. We didn't have that. The love and trust you get from that initial bonding influences how you feel love and trust in future relationships. My mother had been violated at the time of my birth and I believe I became a symbol of that trauma. She detached from me emotionally, so on many levels I often feel like I never really left the isolette."
Heartbreaking, playful, raucous, and serene all in turn, Jonny is a collection of songs that confronts the deep-rooted childhood trauma Pierce experienced growing up in a cult-like religious community in upstate New York, and triumphs over the long shadow it cast on his life and relationships for years. The record is filled with self-reflective songs as well a series of minute-long vignettes that ground the album in gentle introspection as Pierce sings directly to his younger selves. In addition to "Isolette", Jonny features the recent string of tracks including "Better," "Obvious", "I Want It All" and "Plastic Envelope / Protect Him Always, all of which have become instant fan favorites on The Drums' headlining tour across North America this summer.
On Jonny, Pierce doesn't just conquer the darkness that haunted his childhood and the subsequent unworthiness that loomed for decades after – he absolves and loves it for what it was. In doing so, the record unearths a true sense of hope, optimism and joy that's existed just beyond his fingertips for most of his life. An embrace of the mess of life in all its facets, Jonny offers an invitation to dissolve all the hard lines that separate us from ourselves and, by extension, each other -- to soften our shells, to let some tenderness in. Always finding the balance between aching melancholy and irresistible pop sensibilities, the album finds Pierce peering through a kaleidoscope of shimmering guitars, reverb, modular synthesizers and drum machines: a sonic identity that has been uniquely, and wholly The Drums since their emergence 15 years ago.
Soaring to alt-pop prestige nearly fifteen years ago with a renowned self-titled debut, The Drums continue to thrive, influence and reinvent with every project. Pierce initially conceived of the band back in 2008 and what resulted was a string of six studio albums and worldwide acclaim. Their music remains timeless, as evidenced by the recent explosion of their song "Money," which first appeared on their breakout sophomore album Portamento. Transforming into a viral sensation earlier this year – over a decade since it was first released – the song has since bloomed with a second life, eclipsing over 230 million streams on Spotify alone, achieving RIAA Gold-certification, and reaching #1 on the Alternative Global Shazam chart and the #2 TikTok Global Hashtag.