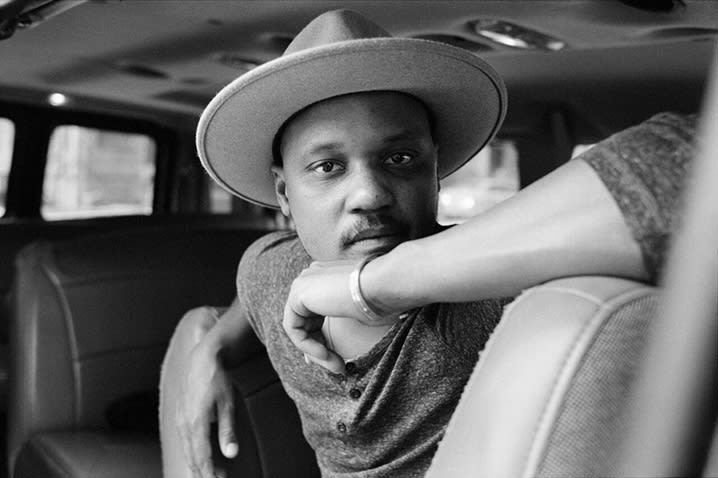 Friday, September 15th, 2017
Son Little Album New Magic Out Today
The New York Times described Son Little's singing as "a voice so careworn it's almost otherworldly" while Culturefly called the Grammy Winning singer-songwriter and producer, "an Otis Redding for the 21st Century."
Son Little's anticipated full length album New Magic arrives in stores today.
Listen to his new single "O Me O My" via Consequence of Sound
Each of the tracks on New Magic's draw from the diaspora of American blues and soul that includes not only modern R&B, but also rock & roll and hip-hop and transforms them into a singular sound that is propelled by his mesmerizing and soulful vocals and production that artfully balances between rustic immediacy and hip hop cut-and-paste.
Son Little first came to the public's attention through his collaborations with The Roots and RJD2, and has since toured with artists as diverse as Mumford & Sons, and Kelis, Shakey Graves and Leon Bridges. In addition he won a Grammy for his work producing Mavis Staples.
Praise for New Magic:
"Listeners who want to hear a smart and passionate musician take R&B into new, thoughtful places owe it to themselves to give New Magic a careful listen." - All Music Guide
"Swoonworthy" - No Depression
"Son Little is a genre-spanning virtuoso and a singular talent" - Mass Appeal
"Son Little does for the blues what Sharon Jones did for soul music. Like Jones, he can make old sounds like new by animating them with his own distinct and necessarily contemporary voice." Paste
Tour Dates:
09.15.2017 Fri CityFolk Ottowa, ON
09.16.2017 Sat, Fresh Grass North Adams, MA
09.16.2017 - 09.17.2017 Grand Point North Festival, Burlington VT
09.19.2017 Tue Stage One Fairfield, CT*
09.20.2017 Wed, The Haunt, Ithaca NY*
09.21.2017 Thu, Club Cafe, Pittsburgh PA*
09.22.2017 Fri Rumba Cafe, Columbus OH*
09.23.2017 Sat, Mercy Lounge, Nashville, TN*
09.24.2017 Sun, Culture Center Theater, Charleston, WV*
09.26.2017 Tue, White Rabbit Cabaret, Indianapolis, IN*
09.27.2017 Wed, Zanzabar, Louisville, KY*
09.28.2017 Thu, The Southern, Charlottesville, VA*
09.29.2017 Fri, Boot & Saddle, Philadelphia PA*
09.30.2017 Sat, Boot & Saddle, Philadelphia PA*
10.19.2017 Thu, Music Hall of Williamsburg, Brooklyn NY***
10.20.2017 Fri, Bearsville Theater, Woodstock, NY***
10.21.2017 Sat, The Sinclair, Cambridge MA***
10.25.2017 Wed, The Barns at Wolf Trap, Vienna, VA***
10.26.2017 Thu, The Mothlight, Asheville, NC***
10.27.2017 Fri, Smith's Olde Bar, Atlanta, GA***"
10.31.2017 Tue, Antones, Austin, TX**
11.01.2017 Wed, Club Dada, Dallas, TX**
11.03.2017 Fri, Valley Bar, Phoenix, AZ**"
11.04.2017 Sat, Soda Bar, San Diego, CA**
11.05.2017 Sun, Constellation Room, Santa Ana, CA**
11.07.2017 Tue, Troubadour, West Hollywood, CA**
11.08.2017 Wed, The Chapel, San Francisco, CA**
11.10.2017 Fri, Doug Fir Lounge, Portland, OR**
11.11.2017 Sat, The Biltmore Cabaret, Vancouver, BC**
11.12.2017 Sun, Tractor Tavern, Seattle WA**
11.14.2017 Tue, The State Room, Salt Lake City, UT**
11.15.2017 Wed, Globe Hall, Denver, CO**
11.17.2017 Fri, Reverb Lounge, Omaha, NE**
11.18.2017 Sat, Turf Club, Saint Paul, MN**
11.19.2017 Sun, Lincoln Hall, Chicago IL**
11.21.2017 Tue, Horseshoe Tavern, Toronto, ON**
* Doe Paoro supports
** Jade Bird supports
***ALA.NI supports